What can you expect from Nexus Prime?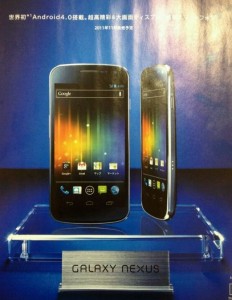 Samsung is set to release the highly-anticipated Nexus Prime on Wednesday. The device was set to debut at the CTIA conference on October 7, but was delayed due to the passing of Steve Jobs. The new event takes place in Hong Kong on Wednesday at 10:00 am local time -- 10:00 pm tonight Eastern Time.
While it has never been confirmed that Samsung's event will be about the Nexus Prime, Google-Samsung teasers and loads of rumors surely point to the device's release, along with Android 4.0 "Ice Cream Sandwich." The Prime would be the first device to run the new version of the mobile OS.
So what will it look like? Based on what we've seen in the promo videos for the event, the most notable feature will be the curved form factor of the device. Prime predecessor Nexus has curved glass, which appeals for aesthetic, comfort and privacy reasons.
Android fan blog android.hdblog reportedly has obtained full specs for the Prime -- from a leak out of carrier NTT DoCoMo -- and those help to paint a clearer picture of the device.
Based on the leak, a Texas Instruments dual-core ARM chip running at 1.2GHz powers the Prime, which sports 1GB of internal RAM. Internal storage is 16GB or 32GB. On-board support for Micro USB, near-field communication (NFC), Bluetooth 3.0, and integrated GPS are included.
Samsung will bring both GSM and CDMA versions of the phone to the market, according to leaked information. The Prime also supports 802.11a/n.
One feature may leave some users disappointed -- the camera. If rumors are right, the rear-facing camera is only 5 megapixels; the front-facing 1.2MP. By comparison, the older Samsung Galaxy S II has an 8MP rear-facing camera, putting Prime behind in that respect.
The specs leaked by android.hdblog (confirmed by a similar scoop on Boy Genius Report earlier this month), don't jive with some others. As recently as October 6, GSM Arena reported that the device would have an 1.5GHz dual-core processor and an eight megapixel camera.
There is also the possibility, according to some sources, that the specs are confused with other upcoming devices, such as a variant of the Prime itself or a US version of the Galaxy S II HD LTE, launched in Korea last month.
Who is right? We'll have to find out. In the meantime, we've included the full spec list from android.hdblog, which seems to be the most likely at this point.
Dimensions (length x width x thickness): 136.0 × 68.0 × 8.8 fine piece - 11.5 thickest part
Weight: Approximately 135.0g
OS: Android 4.0 "Ice Cream Sandwich"
Chipset: Texas Instruments Omap4460 CPU: ARM Cortex-A9 MP Core SMP (Dual-Core) CPU operating frequency: 1.2 GHz
GPU: PowerVR SGX 540 Immage Technologies
Communication Systems (GT-I9250/GT-I9250M/GT-I9250M/SC-04D): W-CDMA, GSM phone (SCH-I515): LTE, CDMA2000 Packet (GT-I9250/GT-I9250M / GT-I9250M/SC -04D): HSPA, EDGE, GPRS (SCH-I515): LTE, EV-DO Rev.
Display: AMOLED HD: 4.65 inches Resolution 720 x1280) Maximum number of simultaneous colors Main Display: 16,777,216 color touch screen: capacitive (multi-touch)
Main camera: 5 megapixel CMOS camera with LED flash Video recording 1080pHD (1920 * 1080)
Front camera: 1.3 million pixels CMOS
GPS
NFC
Micro USB 2.0
Communications Bluetooth 3.0 + HS
Wireless LAN Communication: IEEE 802.11 a / ​​b / g / n (2.4 GHz Dual-Band 5.xGHz)
Tethering
Wi-Fi Direct
RAM: 1GB
Flash Memory: 16/32GB
Battery Capacity: 1750mAh
Notification LED
What do you think of the leaked specs? Is this enough to get you to pull the trigger? Let us know in the comments.
Photo Credit: android.hdblog