There's not much new in Thunderbird 8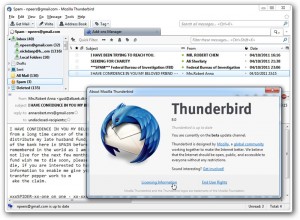 In line with its recent Firefox 8 update, Mozilla has rolled out version 8 of its open-source email platform. Thunderbird 8.0 follows the pattern of recent major version updates by not actually delivering much in the way of new features -- understandable given the number of developers and testers working on Thunderbird are fewer than on Firefox.
Like Firefox 8, Thunderbird is now based on the latest Mozilla Gecko 8 engine, while add-ons installed by third-party applications are now disabled by default for security reasons. There are also new Search and Find keyboard shortcuts alongside numerous security patches and bug fixes.
The new keyboard shortcuts have come about due to an ambiguity between using the [Ctrl] + [F] shortcut to both search using the Quick Filter and within individual messages depending on what was selected.  Now [Ctrl] + [F] is used specifically to search within selected messages; to search using the Quick Filter bar, use the brand new [Ctrl] + [Shift] + [K] shortcut instead.
Thunderbird 8 also includes what Mozilla describes as "improved accessibility of the attachment list" when composing emails. Changes include subtle alterations to the way attachments are displayed -- the size of an attachment is now displayed to the right of the attachment name aligned right in grey, for example, while the overall look is designed to reflect the user's own operating system, be it Windows, Mac or Linux. Attachments can now be navigated, opened, saved or deleted using keyboard shortcuts –- when selected using the arrow keys, press [Ctrl] + [S] to save the file, for example.
The most noticeable change to Thunderbird 8's user interface is actually a feature that has gone missing -- in previous versions of Thunderbird, the user could switch folder views between all folders, unified, unread, favorites and recent using a clickable bar at the top of the folder pane. This option, described as a "bug", has been removed in Thunderbird 8, forcing the user to switch views using the View > Folders menu.
For those who cannot live without this feature, it can either be reactivated by tweaking theuserChrome.css file or -- of more practical use to most – by installing the Folder Pane View Switcheradd-on.
Version 8 also includes a number of platform-specific fixes that squash bugs and improve stability, plus a number of security fixes. Expect Thunderbird 9 Beta and Earlybird 10 to follow in the next few days, again with minor changes the order of the day.
Thunderbird 8.0 Final is a free, open-source download for Windows, Mac and Linux.