Yusuf Mehdi is the best thing to happen to Xbox in years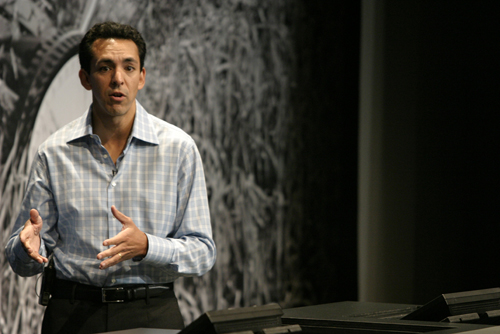 Somehow I missed yesterday's rather startling Microsoft exec move, but, whoa, it's a doosey. Yusuf Mehdi, the sole-surviving executive of stature from the Online Services Business' better days, is stepping aside and taking up a new marketing role over Xbox -- and, whoa, is that a good thing. It's helluva loss for OSB, but Mehdi wasn't going up the executive ladder there anyway. His loyalty is worth something, and there's chance to distinguish himself at Entertainment and Devices the way he did during OSB's brief period of profitability (back when it was called something else).
Mehdi was one of Microsoft's young, rising stars during the early Noughties and he worked as part of the leadership that turned MSN from Money Pit to Black Gold. I beta tested the online service before its debut with Windows 95. Microsoft launched MSN in response to online services AOL and CompuServe, while failing to see the more important World Wide Web rising above them. The MSN group lost money from day one and continued to do so into the new century. There was a joke among some Microsoft employees that MSN was on the "red side of campus", because it was perennially unprofitable.
But a stunning turnabout came when Microsoft announced fiscal 2004 first quarterly earnings in October 2003. MSN posted a profit, which it maintained for eight consecutive quarters. Mehdi is the last remaining executive from MSN's golden era, and he is distinguished by moving on elsewhere within Microsoft rather than leaving altogether.
Those eight quarters marked a real turnabout in MSN strategy and marketing, and Mehdi was one of the principal architects. Then came disastrous change. Microsoft decided to largely rebrand its online services as Windows Live. Related, CEO Steve Ballmer announced a massive early autumn 2005 reorganization that established three major Microsoft divisions and presidents over them (there are five now). During fiscal 2006 second quarter, the first full one post reorg, MSN revenue plummeted 125 percent year over year and 266 percent sequentially. Online Services hasn't posted a profit since. The reorg devastated the leadership, with only Mehdi remaining by Spring 2007.
Mehdi was loyal, even though in a sense his star diminished for no fault of his own. Still, he wielded magic. He played instrumental roles negotiating the Yahoo search deal and with launching Bing. Microsoft search rebranding is every bit the success that Windows Live's was failure, much of that is about marketing execution, which I have repeatedly praised.
Mehdi held many strategic roles during his 10 years at OSB, often coinciding with important positive milestones for the division, such as chief advertising officer and senior vice president of Strategic Partnerships. In February 2008, I described Mehdi as "a rising MSN star before the division's success led to its absorption into the Windows group. He's still someone to watch, whether he advances within Microsoft or moves on. As someone with responsibilities for mergers and acquisitions, Yahoo integration could be in Mehdi's future". At the time, Microsoft wanted to buy Yahoo, but later ended partnering on search.
In an email to OSB employees yesterday, divisional president Qi Lu described Mehdi as a "pivotal leader at critical milestones of our division's journey from the early days of MSN, to the original MSN and Live Search products, to the launch of Bing and the consummation of key strategic deals for OSD and MS, including Yahoo, Facebook, Twitter and Nokia. Most importantly, he has built a world class marketing, business development, strategy, and product management organization that has made incredible contributions to the success of OSD and Microsoft. I want to take this opportunity to express my heart-felt thanks to Yusuf for everything he has done for OSD".
Currently, Mehdi is OSB's chief audience officer, a role he vacates when becoming chief marketing officer for Microsoft's Interactive Entertainment Business on December 5 -- that means Xbox and gaming. According to his updated bio:
Mehdi is responsible for the Xbox 360, Xbox LIVE, Xbox 360 games and Kinect brands. He works with the IEB leadership team to create hit products and services. Mehdi specifically leads product management, product marketing, market and business intelligence, PR/AR, advertising, brand and relationship marketing for the entire Xbox 360 business.
He assumes a marketing position over a product seemingly in good marketing health. But there are key transitions ahead, as Xbox, Windows and Windows Phone intersect across online and offline gaming and cloud services -- then there is planning for Xbox 360's successor. Better he be in the role now and have marketing wonks working alongside console architects for the rumored 2013 launch.
I haven't spoken to Mehdi in years, but he long has been one of my favorite Microsoft execs. He is fresh and frank, exuding an honesty not heard enough from Microsoft's higher echelons. The new role will fit him better than the last, I predict.