Five reasons to quit XP for Windows 7 [contest winners]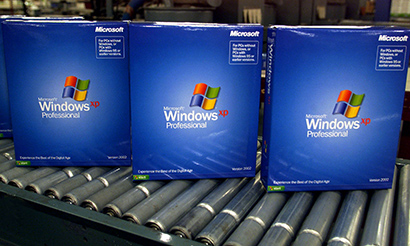 Last in a series. I've got a box full of Microsoft mice cluttering up the living room, and my wife begging please to get rid of them. So with that pressure, I must finally announce winners of our "Five Reasons to Quit Windows XP" contest. My apologies for the delay. Winner for the Windows Phone 7 contest will come quicker.
Before continuing, I offer heartfelt thanks to Microsoft's hardware PR team for providing the mice five lucky winners will receive. In appreciation, let's plug Microsoft's "The Art of Touch" contest. Click the link to create online art, which I can say from trying works better with some kind of touch device. According to Microsoft:
Each week from November 10, 2011 to February 4, 2012, one lucky artist will win an Art of Touch prize package. The prizes change from week to week and include free Touch Mouse products, laptops, and cool swag imprinted with the winner's artwork. You might see your design on anything from headphones to a skateboard.
Their prizes are better than mine. But, hey, winners, these are great mice. Please enjoy them.
Our panel of judges failed in its quest to balance the most serious reasons with the funny ones, in part because none of the former stood out. We couldn't find one compelling enough among them, which is why the delay announcing winners. Our panel wanted to award prizes to both kinds, but the number of humorous responses was too many to ignore.
So, here's what we did. Our panel narrowed down the best answers until we had five reasons we liked more than the others. Among them, we awarded prizes by chance. We used a polyhedral dice from my old Dungeons & Dragons game -- yes, there was role playing before the Internet and Xbox 360 -- to award prizes randomly.
The winners have 7 days -- until 11:59 pm ET, November 23 -- to claim their prizes. I'll mail them within 24 hours of notification. We will need to verify identities so that someone else doesn't step forward and snatch your prize. Unclaimed prizes will go to the runners' up. Please email joe at betanews dot com.
Now the five reasons you should give up XP and upgrade to Windows 7:
1. "It's simple math: 2012 is the year to upgrade to 7 (or perhaps 8). Assuming the current version of Windows is twice as good as XP (whether you choose to use performance, security or MS included desktop images as your reason doesn't matter) then 2 x 2012 = 4024. But, of course, you must divide that by the 100 users who will complain forever that you made them learn something new: 4024/100 = 40.24 So, X = 40.24, and P in hex = 50. So the mathematical formula XP, which is simply X times P, is 40.24 x 50, which equals 2012. You've reached EOL. (and that's a whole different equation scenario which will take far too much space to explain)." Winner: TechRon. Prize: Arc Mouse
Members on our awards panel are mathematically challenged. We couldn't figure out what TechRon was communicating, but it sure reads important enough to be reason to dump XP for Windows 7. One judge simplified the reason for the rest of us: "The Mayans predicted the world ends in December 2012. If you wait, you'll miss out on Windows 7" Now that we all understood.
2. "My 5 year-old daughter's notebook at home is Windows 7 and my desktop at work is not". Winner: Isaac Vallee. Prize: Arc Mouse.
The panel chose this reason because we expect so many people can relate. They've moved on to Windows 7 at home, but it's XP all the way at work.
3. "You're finally moving out of your parents' basement, but they want to keep their old PC". Winner: Jason Syth. Prize: Explorer Touch Mouse.
Our panel divided over this one and another from Jason: "You're tired of the neighborhood children thinking that your home is a museum when they try to sneak peeks of your VCR, your rotary dial phone, your CRT monitor, and your decade-old copy of Windows XP". They're both winners, far as I'm concerned, but the policy is one prize per submitter.
4. "I have read the Voynich Manuscript, and it states that using Windows XP will keep you from being admitted into the *real* Secret Society. (Not those fake one's we all know about.)". Winner: PC_Tool. Prize: Touch Mouse (which requires Windows 7).
I personally got tingles down my back reading this one and strange feeling of watching a really good "Fringe" episode.
5. "I've been on hold with Windows XP Tech Support since Feb. 14, 2001". Winner: Straspey. Prize: Explorer Touch Mouse.
We'd love to see Straspey's phone bill, and we presume it's a landline. Our panel got two laughs from this one. First: The obvious on hold since 2001. Second: After I pointed out Windows XP didn't officially launch until Oct. 25, 2001. Straspey, if you're still on hold Feb. 14, 2012, let us know. We'll send your partner or spouse flowers for Valentine's Day.
Runners Up
1. "Because on the 7th day God rested". David Paige.
The panel engaged in a fierce discussion about the existence of God, which I silenced. God's existence is immaterial to the reason's validity. For many XP users, moving to Windows 7 is a leap of faith.
2. "You are almost to the end of War and Peace, having read a chapter every time you rebooted after a monthly patch cycle". Torchwood.
Some of us have read the epic novel, but wondered: With that much downtime every second Tuesday, aren't there better things to do -- like see a movie or attend a play?