Microsoft expands epic retail war with Apple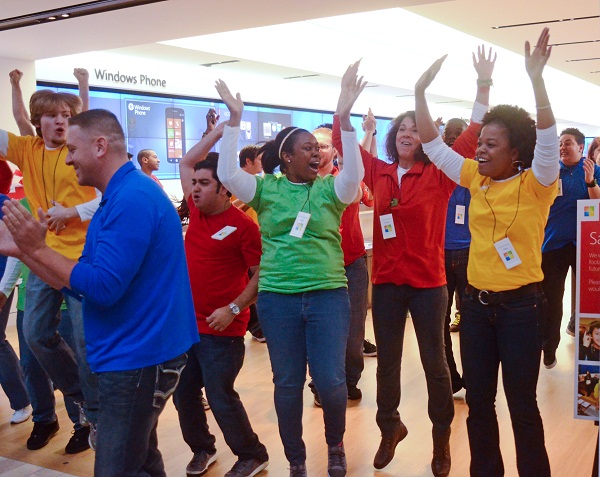 It's grand opening weekend for Microsoft's 14th retail store, and first on the East Coast, at Tysons Corner Center in McLean, Va. The company pulled back the curtain yesterday at 9:30 am ET, just down the way from Apple's first-ever retail shop.
I was there when Apple Store opened in May 2001 and regret missing Microsoft Store's debut there. I lived in the Washington, DC area for 23 years before moving to San Diego in October 2007. Tysons Corner is my favorite of the Beltway malls.
Tysons is a good location for Microsoft and demonstrates an aggressive retail strategy. A decade ago, just as Apple opened its first shops, Gateway was in the process of shuttering hundreds of stores. Gateway's retail strategy failed for many reasons, but location tops them. Gateway chose outlying areas to save on real estate costs, and most stores stood isolated. Apple chooses high-traffic malls and urban areas, which cost more but also can generate more sales and, of course, revenues. Likewise, Microsoft picks high-traffic malls.
Microsoft opened the first two stores in Arizona and California in October 2009. The fourth opened here in San Diego in June 2010.
Apple Store provides valuable direct customer feedback that the company can put back into product development. Even with 14 stores, Microsoft sees similar benefits. "It's helping us transition from thinking about our customers to thinking like our customers", COO Kevin Turner says, when announcing store expansion in July. Important: "Direct customer feedback from the stores". Microsoft plans to open 75 stores over the next two to three years. Apple Store tops 330 locations, with continued expansion, mostly internationally, during fiscal 2012. Microsoft has yet to make a big international push.
Apple, Microsoft and Sony operate stores all on the same level at Tysons. Eighteen months ago, I asserted that "Apple and Microsoft stores are the future of technology retailing" -- a shift from large box shops to boutiques. Or perhaps it's a return to the past. Radio Shack helped pioneer tech boutiques decades ago. Cellular carriers have long operated singular, smaller shops. Best Buy Mobile marks the trend. Circuit City and CompUSA are years gone. Sure Best Buy and Fry's remain -- and there will always be Walmart -- but selling much more than gadgets or PCs.
The three company stores -- Apple, Microsoft and Sony -- share similarities relevant to providing products, services and customer service:
Apple and Microsoft offer in-store training for using hardware, software and services.
All three provide in-store tech support: Apple Genius Bar, Microsoft Answers and Sony Backstage.
Apple and Sony sell mostly end-to-end solutions (Sony offers some third-party software -- e.g., Windows on VAIO PCs).
Product categories are similar: Computing, gaming, home entertainment, mobility, photography and videography, among others.
Microsoft and Sony provide tools or services for personalizing products, giving them a unique touch, and they're selling points.
But there's something important that sets these company stores apart from other tech shops. Each also sells a distinct lifestyle around their products. The Apple way, Microsoft living and Sony entertainment. Heck, Sony's shops have "style" in the name.
Two days before Christmas last year I contrasted these lifestyles in post "Talking about Microsoft Store", which contrasted the differences between people shopping there and the Apple shop a few doors down in Fashion Valley Mall, San Diego. Apple Store was busier, and the crowd younger, with lots of individuals and couples. I observed about the other shop: "Microsoft Store is where families meet". Microsoft carries that theme foward in its exciting new "It's a great time to be a family" marketing campaign.
Have you shopped in both Apple and Microsoft stores? Please share your experiences in comments or email joe at betanews dot com.
[portfolio_slideshow id=46736]
Photo Credits: Microsoft