BlackBerry, Windows Phone can't catch a break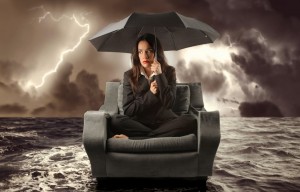 Another three-month handset report is available from comScore, and BlackBerry and Windows Phone continue their relentless declines. However, new Windows Phone 7.5 handsets shipped after the analyst firm's reporting period. True test will be the next round of data.
BlackBerry is literally in free fall, with it's share of US smartphone subscribers falling 4.5 points to 17.2 percent from the three months ending in June to the same period closing in October. That's right. Three months! A year earlier, BlackBerry share was 35.8 percent. So since October 2010, the smartphone OS cut its subscriber share in half. Quick, grab some O-negative blood, BlackBerry opened an artery!
Windows Phone's share decline is more ebb than raging rapids, losing just 0.3 points during the same three-month period, ending with 5.4 percent share. However, predecessor Windows Mobile had 9.7 percent share a year earlier and 11.8 percent in July 2010. Microsoft plugged the artery but blood loss continues.
Meanwhile, Android gains are still torrential. During the three months, share rose 4.4 points to 46.3 percent. At this pace, one half of American's smartphones will run Android by end of January. A year ago, Android share was 23.5 percent and 17 percent in July 2010.
For all the buzz about iPhone 4S, Apple smartphone share continues its slow share gains. From July to October, iPhone rose 1 point to 28.1 percent share. Still that's a healthy gain -- 3.5 points -- from a year earlier. Apple released 4S during the recording period and dropped iPhone 4 to $99 and 3GS to free (a penny some places).
Still, iPhone's modest gains don't necessarily mean equally modest sales. The number of US cellular subscribers with smartphones rose by 10 percent to 90 million during the three months. The base expands rapidly. A year earlier the number was 60.7 million.
More broadly, looking at the entire US cellular handset market, Samsung maintained its leadership position, with 25.5 percent subscriber share, but flat growth. A year earlier: 24.2 percent. So despite the popular Galaxy S II product line, Samsung's growth appears to have topped out. By comparison, fourth-ranked Apple gained 1.3 points from July to October, with 10.8 percent share. Second- and third-place LG and Motorola lost share -- 0.3 and 0.5 points, respectively, to 20.6 percent and 13.6 percent.
At the end of October 234 million Americans age 13 or older owned cell phones -- unchanged from October 2010. That's a hugely important data point. The US cellular market is saturated. Rather than adding new subscribers the base converts feature phones to smartphones.
Apple and Android fanboys can debate all they want about which is superior -- iPhone being No. 1 smartphone and generating more revenue per handset, for example. But by the subscriber numbers, there will come a point where smartphone sales dramatically slow. The platform with larger install base wins the platform wars. Unless iPhone makes hugely dramatic share gains during the holidays and over the next 6 to 8 months, Android will eclipse iOS as smartphone development platform of choice, confirming my October 2009 analysis: "iPhone can't win the smartphone wars".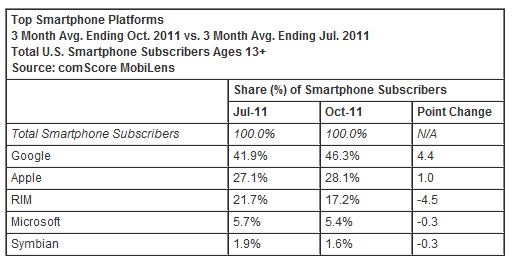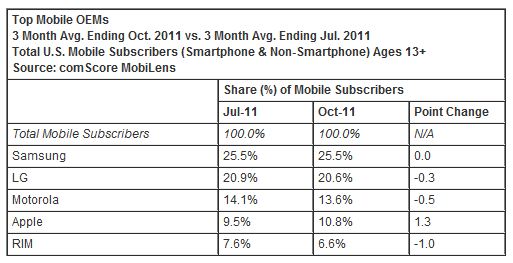 Photo Credit: olly/Shutterstock