Gowalla shuts down as staff goes to Facebook

Location-based social network Gowalla announced on Monday that its service is shutting down at the end of January as its team "goes to California" to join the Facebook team.
Gowalla became known as something of an also-ran against location-based social networking leader Foursquare. For a brief period of time in 2010, the two services were in close rivalry and so-called "geosocial networks" were hot topics in the startup scene.
Though the interest was high among tech early adopters, the Pew Research Center revealed that "checking in" was actually only used by 4% of the population.
Though these services have gained a little bit of traction, the Center found it was still the least popular activity among smartphone-using adults earlier this year. Because of this, many of FourSquare's competitors began to shift their focus onto different competitive areas.
Andy Miller, CEO and Co-Founder of mobile rewards card app CardStar pointed this trend out to us last February.
Miller said: "Foursquare's competitors, Brightkite, Gowalla, and so on...all those guys are pivoting, but Foursquare is staying the path, they have a long uphill battle. I mean, Facebook Places is just crushing everybody. But Foursquare, I don't think they're toast. I think they're in a pretty great niche market."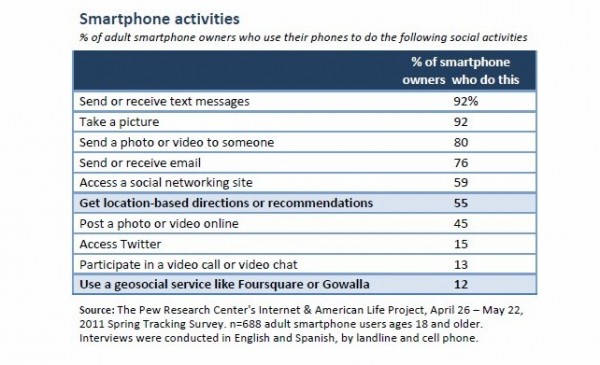 So rather than try to keep Gowalla afloat, it is shutting down entirely.
"We plan to provide an easy way to export your Passport data, your Stamp and Pin data (along with your legacy Item data), and your photos as well. Facebook is not acquiring Gowalla's user data," said Gowalla co-founder and CEO Josh Williams.