First-impressions review: ExoPC 'Microsoft Signature Series' tablet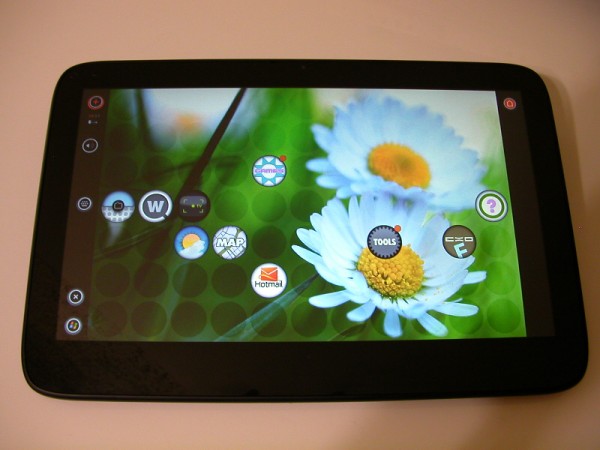 From all the buzz about iPad, or Android tablets, you'd never know that Windows slates are available and that they offer many unique benefits. I recently bought the ExoPC from Microsoft Store. It is a Microsoft Signature Series PC selling for $399 and running Windows 7 Home Edition.
The company says this about Signature Series PC: "Microsoft engineers carefully tune your PC to help it achieve maximum performance, and include software that really makes it fly. Add world-class antivirus security software with no renewal fees along with 90 days of technical support directly from Microsoft. That gives you a PC that's the best it can be, made that way with Microsoft Signature". The computer, or in this case tablet, isn't loaded up with performance-sapping, third-party software.
Out of the Box
I felt good; about ExoPC before opening the box, which is well-made (and looks good, too), giving the impression of a quality product. Inside I found the tablet, external charger and Microsoft Signature booklet. You should connect the tablet to the charger when first starting it up, since the battery may not be fully charged. Mine wasn't.
This is my first tablet PC, so I won't compare it to others. My first impression: it's a bit heavy. ExoPC is definitely not a "one-hand" held style of tablet, but requires two hands to hold it properly. The slate weighs just over 2 pounds. iPad 2, which doesn't have the benefit of a full desktop OS, weighs less: 1.3 pounds. That said, I showed ExoPC to a friend who has been using an Android tablet for awhile, and he commented that it felt light for its size. He actually liked the size of the screen too. At 2.09 lbs it is lighter than a Netbook, but heavier than iPad.
The tablet feels very solid and well built, not flimsy by any means -- it's built to last. There is a good size border around the display (bottom edge in landscape is slightly wider than the other three sides) so there is plenty of room for holding it with your fingers, without covering the display, which measures 11.6 inches. By that measure, ExoPC is more notebook than iPad or Android tablet.
ExoPC specs: 11.6-inch display (1366 x 768 resolution) with fingerprint-resistant coating; 1.66 GHz Intel Atom N450 processor; 2 GB DDR2 memory at 667 MHz; 64 GB SSD; Intel GMA 3150 graphics; 1.3-megapixel webcam; Realtek High Definition Audio with 2 built-in 1.5-watt speakers; mini-HDMI port; two USB 2 ports; microphone input; headphone output; WiFi N; Bluetooth; and Windows 7 Home Premium. Measures 11.6 x 7.7 x 0.55 inches and weighs 2.09 pounds.
The display is very pleasing. The resolution is really about the lowest one would want to use for a Windows tablet (1366 x 768). This is the same resolution that Microsoft used on tablets when demoing Windows 8 at the BUILD conference, so my impression is that it may become the defacto standard for a Windows tablet (unless it is a 4:3 display of course). The viewing angle vertically (in landscape mode) is not as good as I would have hoped (actually a little poor), so you really need to face it straight on. The horizontal viewing angle though (in landscape) is very good, so someone to your side can see quite well. The touchscreen is very responsive and after calibrating it very accurate.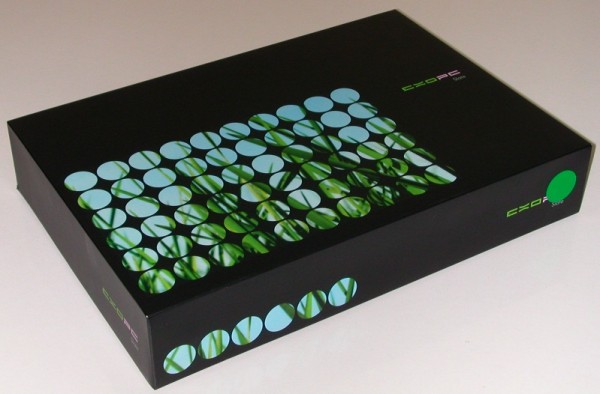 The 16:9 display ratio appears better suited to landscape mode than portrait, but the resolution is very good so portrait mode should be acceptable to those who use tablets for an ereader. I am a Windows software developer, so landscape will most likely be the prefered mode for me. Still, the 11.6-inch display is a delight -- if you plan on doing a lot of work with ExoPC, rather than simply use it for the typical content consumption (viewing content rather than creating it), like many tablet users do. Size of display is one of the reasons I chose this tablet.
What About Documentation?
There are no buttons on the front of the tablet (power button is on the back), but the light sensor at the top-left corner can be used when the tablet requires keyboard input at times when the operating system is not yet running (i.e., boot menu when two operating systems have been installed). If you move your finger over the light sensor it acts like an arrow key and if you hold your finger over it for 3 seconds it acts like an Enter key. I had to go to the manufacturer's website and their online forums to find this out, so I could properly navigate the boot menu after I later installed Windows 8. Hidden usability features like these are delightful when discovered and create good feeling about the tablet.
But my having to go to user forums to find out about hidden features reveals an annoyance: The ExoPC documentation isn't good enough and could be a lot better. The Microsoft Signature booklet is more about setting up Windows (account user name and password, for example) and that sort of thing. There are no references to such things as using the external power supply when first starting up or even how to back up the operating system.
I went to the manufacturer's website to their community forums to find out how to properly backup the operating system, which is done using a utility that is installed in the Windows system folder (startgen.exe). I later found this utility is also listed on the start menu in the ExoPC folder. This utility requires a 4 gig USB flash drive to backup the operating system. You can't backup up to an extermal USB DVD drive with this utility. It will create a complete restore image for the original data found on the tablet. If you want a backup of all your user data later, then you can use the Windows 7 backup utility to do this.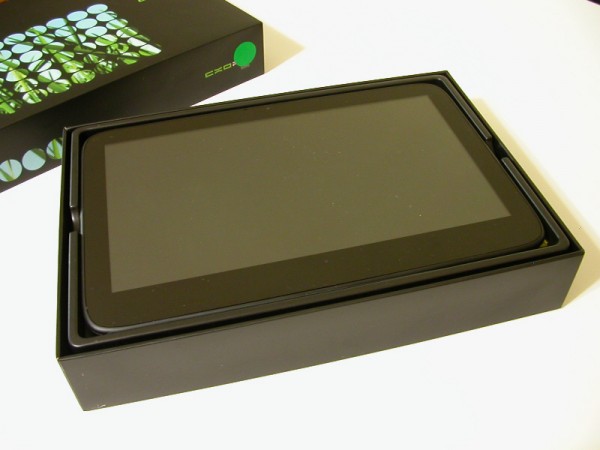 Easy Setup
If you have not used a Windows tablet before, you may initially be confused when the setup initially starts (when first booting up) and requests you type in user account descriptions (to create your first user account). There is no obvious way to type in the text and the Windows 7 touch screen keyboard which can later be accessed via the left side of the screen (touch left side to show it) is not yet available. How you enter text is to simply touch the text field (box) where you want to enter text and a keyboard will automatically display itself. Once I figured this out, the rest was easy.
Even setting up the WiFi for my DSL router was just a matter of selecting it by name and entering the security password. WiFi worked very well. I connected to the Internet and watched some online videos and did it in another room from where the WiFi access point was located.
I would recommend (as with any Windows tablet PC) you connect to the Internet first thing and let Automatic Update do its thing. The ExoPC also comes with Microsoft Security Essentials installed rather than the common McAfee or Norton AntiVirus software, which was nice to see. Security Essentials is more light weight (less bloated) than others so it's well appreciated. Make sure Security Essentials updates AV signature, too.
The tablet felt a little warm and the fan ran quite a bit when I first started it up, which concerned me at first until I went to the ExoPC online forums to get some information about this. It appears WiFi is the big power eater, so when you are online watching videos or downloading a lot, expect the fan to run a bit. ExoPC doesn't get any warmer than any Netbook I have so this appears normal. The fan, even when running full speed, is still very quiet compared to some laptops so it isn't distracting.
Decent Performance
The specifications for this tablet are decent for a Windows tablet PC. The Atom CPU (N450) is not a powerhouse compared to some other processors, but I guess ExoPC chose this CPU to compensate for the extra power a larger screen may use. A dual core CPU would have made this tablet exceptional, but the Atom N450 does the job well enough. The 1.66GHz Atom N450 CPU is slightly faster (see: CPU Benchmarks) than the 2.5GHz Celeron CPU in my primary desktop computer (8 year-old Windows XP computer), so considering the form factor of a tablet this is not all that bad. A dual-core CPU would have been nice though.
Despite much of the critism about Windows 7 not being touch friendly, this is the furthest thing from the truth. The real issue is that Windows has long been a desktop operating system and most software was written for the desktop, so, yes, when you use desktop software it can be a challenge. In reality, Windows 7 already supports the key low level features for touch that are also in Windows 8. The difference between Windows 8 and Windows 7 is two fold:
1. Metro UI is very touch oriented and Metro applications are designed specifically for the tablet form factor.
2. The Windows 8 touchscreen keyboard is much better designed than with Windows 7. It works fine on Windows 7, but on Windows 8 it is a much, much better experience.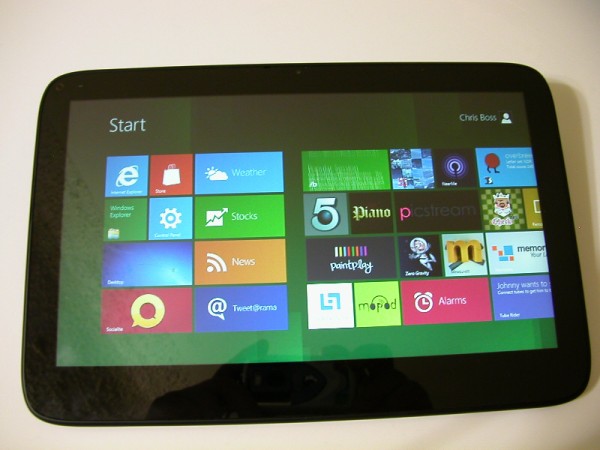 ExoPC is just the right size for a tablet so that one can use desktop applications that were not specifically written for a touchscreen reasonably well.
ExoPC actually makes the desktop style applications much easier to use for two reasons:
1. Screen size. The 1366 x 768 resolution and 11.6-inch display (DPI settings are set to 125 percent by default, which is just right) really makes up for a lot when it comes to using desktop applications with touch.
2. It also has its own unique ExoPC UI that is well suited to touch and a tablet. The ExoPC UI is an alternate front end menuing system meant to make Windows 7 more touch friendly. The user interface is so good that ExoPC has even licensed it to other companies for their tablets. So until Windows 8 and Metro are commercially available, the ExoPC UI is a good solution. Windows 8 and Metro, though, may make the ExoPC UI obsolete. But that is yet in the future, so for now ExoPC has an advantage over other Windows tablets.
Windows 8 Ready
To fully appreciate the ExoPC as a Windows tablet, it is important to note that the term "legacy applications" (which refers to desktop applications) that you may often see used when some talk about Windows 8 and tablets is not a valid term. Microsoft at times uses the term "desktop applications" when comparing them to Metro applications. This is really the proper terminology from what I can see. The future Windows 8 does something quite unusual. It merges the desktop and the tablet-oriented Metro into one operating system, so you get the best of both worlds. Metro does not replace the desktop (so the term legacy is incorrect) and the desktop is not exclusive from Metro.
Using a Windows tablet, like the ExoPC, is different than using an Android tablet or the iPad. For people who want the ability to do the same thing on a tablet as they do on a Windows desktop or laptop computer, the desktop experience and the ability to run any Windows application is vital. You just can't replace the Windows desktop. It is necessary. One key to a positive experience with a Windows tablet PC is the size of the screen, and the ExoPC calls it right with its large 11.6" display. Anything smaller just won't do well, from my experience, when using Windows and a touch screen.
Actually touch is quite enjoyable with Windows 7, as the screen size gets larger. Of course, you wouldn't want to go much larger than 11.6 inches for a tablet (it's just right), but with a desktop computer the larger the screen the better is touch. Having used a 22-inch touchscreen with a Windows 7 desktop computer, I can attest to how nice it is.
Is ExoPC good enough to run Windows 8, if you plan on upgrading later on? Absolutely. I have already partitioned the hard drive to create a second partition (easy to do with Windows 7, since you can shrink an existing partition to create room for another) and installed the Windows 8 Preview (32 bit) build on it. Let me say that while I like Windows 7 on this tablet, Windows 8 is even better. The large 64GB SSD of the ExoPC also provides plenty of room for installing the Windows 8 Preview alongside Windows 7, so if you are a software developer the ExoPC would be a good choice if you want to get a head start with Windows 8 on a tablet, without spending lots of money.
Photo Credits: Chris Boss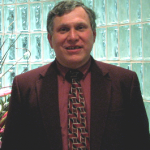 Chris Boss is an advanced Windows API programmer and developer of 10 year-old EZGUI, which is now version 5. He owns The Computer Workshop, which opened for businesses in the late 1980s. He originally developed custom software for local businesses. Now he develops programming tools for use with the PowerBasic compiler.