For years in development, is Scribus 1.4.0 worth the wait?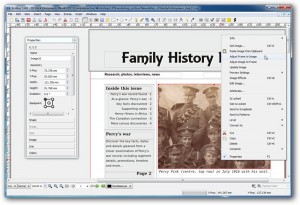 Open-source, cross-platform desktop publishing package Scribus 1.4.0 has been given a final, stable release, four years after the first developmental version saw the light of day. Over 2,000 feature requests and bugs have been resolved in this new release, which, despite the relatively minor version number jump from 1.3.3.x, is a major new release.
Notable improvements include better object handling, many more advanced options for text and typography, new features for vector objects and better handling of fills.
Feature enhancements to object handling include the addition of transform tools such as found in other drawing packages, which help improve key areas of the program such as the Scrapbook and Image Manager.  Typography-based improvements include character styles and optical margins, plus wider support for text-based undo actions.
New vector object features include Boolean path operations and vector effects, while Scribus 1.4.0 adds support for importing a number of vector-based formats, including Adobe Illustrator (EPS and PDF-based), WMF and Macintosh PICT format.
Fill handling is improved via a new pattern fill option, additional gradient types and many new color palettes, as well as support for external formats such as AI and EPS.
The Image Manager has been overhauled with the ability to add non-destructive image effects to inserted images and better support for Photoshop PSD files, including multiple clipping paths and layers.
Other improvements have been made to Scribus' pre-press features, PDF export and color management. Version 1.4.0 also ships with many more templates than previously supplied, and there's a new Autoquote script for converting straight quotation marks in a text frame.
Scribus 1.4.0 has also been migrated from the Qt3 to Qt4 application framework, which in layman's terms means it should now run equally reliably across all supported platforms.
The final build comes around two months after RC6 was released, and over 10 months after the first Release Candidate build was released back in February 2011. Now that version 1.4.0 has made stable release, development has turned to stabilizing the version 1.5.x development branch, with "amazing new features", including rewritten table implementation and text system, plus support for various iterations of PDF (including native PDF import).
Scribus 1.4.0 is available as a free, open-source download for Windows, Mac (Intel only running OS X 10.5 or higher) and Linux.