People in China would kill for iPhone 4S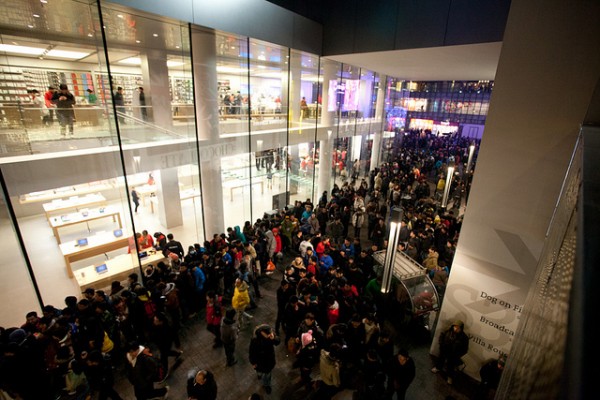 The Chinese are clamoring for the iPhone 4S as it released across the country on Friday, but crowds at its flagship Beijing store became so unruly that law enforcement was called in to disperse the crowd and Apple was forced to halt sales of the the device in its retail shops.
According to press reports, "hundreds" of people began lining up for the device overnight in freezing temperatures for a chance to purchase the device. When the store failed to open at 7 am, some in the crowd became violent and began to pelt the store with eggs and yelled at employees through windows.
In a move to guarantee the safety of those involved, the crowd was informed that the sale was cancelled and police moved in to disperse crowds and cordon the area off with yellow tape. Signs were placed on windows stating the phone was "sold out".
"We were unable to open our store at Sanlitun due to the large crowd, and to ensure the safety of our customers and employees, iPhone will not be available in our retail stores in Beijing and Shanghai for the time being", Apple said in a statement.
Those in China wishing to get their hands on Apple's newest device are now forced to purchase the device online, or through China Unicom, the only official distributor of the device in the country. Either way, the excitement over iPhone shows the importance of the country to Cupertino's success.
China accounted for 16 percent of total revenue in the quarter ending September 30, 2011 -- a massive jump from the two percent the country's sales contributed to Apple's bottom line in 2009. Gartner estimates that about 10.4 percent of smartphones sold in the first nine months of 2011 were iPhones, also up dramatically year-over-year.
With such success, China's black market has proven lucrative for Apple devices, and those who procure them. The Financial Times relays the story of one of these scalpers, who was reportedly still fighting with security guards at noon because she had to "deliver the merchandise".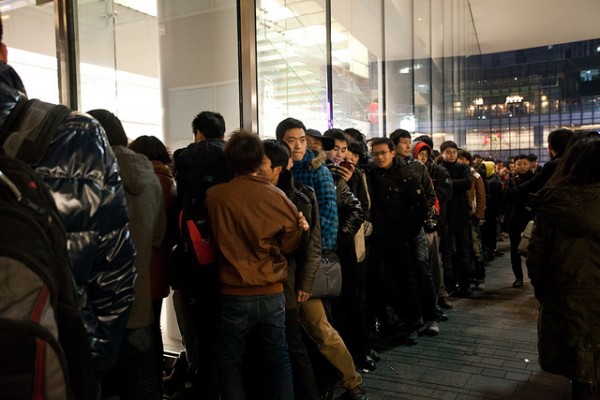 Photo Credits: Elizabeth Phung