Anonymous launches SOPA strike, takes down Justice Dept.


"The Site is under maintenance. Please expect it to be back shortly". That's the message I found at Universal Music moments ago. The US Justice Department site isn't accessible at all. You can thank hacktavist group Anonymous, which claims responsibility for these and other SOPA blackouts today in response to the Feds shutting down Megaupload.
There's a certain irony to this evening's attacks. Yesterday, tens of thousands of sites supported a voluntary blackout protesting two bills snaking through Congress -- Stop Online Piracy (SOPA) and PIPA (PROTECT IP Act). Anonymous' attacks, presumably denial-of-service, blacked out sites that either support the legislation or would be responsible for enforcing it. We've gone from voluntary blackout protests yesterday to involuntary ones today. As I write, Recording Industry Association of America is down, too.
About two hours ago the Anonymous @YourAnonNews account tweeted: "Megaupload was taken down w/out SOPA being law. Now imagine what will happen if it passes. The Internet as we know it will end. FIGHT BACK"; after tweeting: "The government takes down #Megaupload? 15 minutes later #Anonymous takes down government & record label sites. #ExpectUs".
Earlier, the Justice Department accused Megaupload.com of a conspiracy to traffic pirated movies, music, television programs, ebooks, and software -- for the last five years on massive, global scale and causing damages exceeding $500 million to copyright holders.
The Feds couldn't have struck at a worse time, considering the negative response to SOPA and PIPA. Either bill would give the government broad powers to take down websites, seize domains and compel search engines from indexing these properties. Little more than a request from copyright holders is necessary. It's essentially guilty-until-proven-innocent legislation that would punish the many for the sins of the few, while disrupting the fundamental attributes that made the Internet so successful and empowered so many individuals or businesses to accomplish so much. (Review the bills: PIPA. SOPA.)
Wired UK's "SOPA 101" guide is one of the best primers posted in recent days, if those bills are too long (and wordy) for you. Google offers excellent recap, too. Appropriate for today's blackouts is yet another primer of links from the @YourAnonNews Tumblr.
@YourAnonNews tweeted around 7:20 pm ET: "You cannot censor the internet. You cannot subpoena a hashtag. You cannot arrest an idea. You CAN expect us #OpMegaupload".
Anonymous' assault continues as I write updates to the post. Warner Music is now down (7:35 pm ET).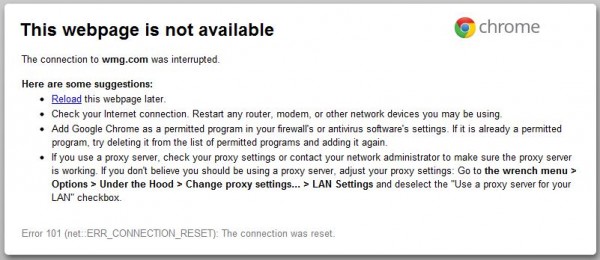 About two hours ago, Anonymous tweeted: "Let's just say, for #SOPA supporters their #SOPAblackout is today. #Anonymous".
The group claims to have taken out other sites, including the US Copyright Office and Motion Pictures Association of America. But the sites are loading fine for me, which doesn't mean they weren't down earlier.