Suddenly 37M iPhones isn't so many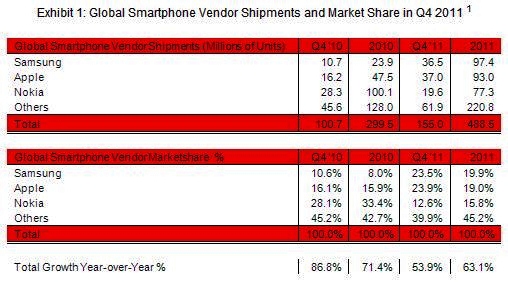 My reaction mirrored many others this week. Apple's big iPhone holiday quarter seemed simply unbelievable -- 37 million, up 128 percent year over year. But Samsung was close. Real close: 36.5 million smartphones, according to Strategy Analytics. Together, the two companies accounted for 47 percent of fourth-quarter smartphone shipments.
The horse race between the companies sours Apple apologist arguments about iPhone vs Android. Staunch iPhone defenders blow off Android competition as one against many. But on the one-to-one comparison, Apple isn't so high and mighty. Samsung is keeping pace just fine. Apple was market leader for the quarter -- 23.9 percent share to the South Korean company's 23.5 percent. But Samsung took the year -- 19.9 percent share to its American rival's 19 percent. Both companies had exceptionally good fourth quarters.
"With global smartphone shipments nearing half a billion units in 2011, Samsung is now well positioned alongside Apple in a two-horse race at the forefront of one of the world's largest and most valuable consumer electronics markets", Neil Mawston, Strategy Analytics executive director, says.
"Smartphone specialist Apple shipped 93 million handsets worldwide in 2011, nearly doubling the previous year's volumes", Tom Kang, Strategy Analytics director, says. "Apple is on track to ship well over 100 million units during 2012. China is becoming a key market for Apple this year, and we expect Apple's share to grow rapidly in 2012".
Last week, I asserted that Apple's fourth-quarter sales surge was more about distribution rather than iPhone 4S. Apple's handset is available more places and, importantly, $99 iPhone 4 and free 3GS open up sales to more people. Supporting that theory, Alex Spektor, Strategy Analytics associate director, attributes the surge to "distribution of the iPhone family expanded across numerous countries, dozens of operators and multiple price points". I remain convinced that the latter reason is most important.
Samsung announced fourth-quarter earnings results today and unsurprisingly the telecommunications business outperformed other segments. Revenue rose to 17.82 trillion won from 11.75 trillion won a year earlier, with operating profit of 2.64 trillion won. The division's operating profit rose 90 percent in 2011 year over year.
Samsung says that its smartphone shipments rose 30 percent quarter-on-quarter; Apple says iPhone shipments rose 117 percent between quarters. Unlike Apple, which has a single operating system with iOS, Samsung offers three: Android, Bada (its own product) and Windows Phone. Android overwhelmingly accounts for the majority of Samsung smartphone shipments.
More broadly, manufacturers shipped 155 million smartphones during fourth quarter and 488.6 million for the year. Shipments for all handsets in 2011: 1.6 billion.