OneNote for Android is here -- get it now or live with regret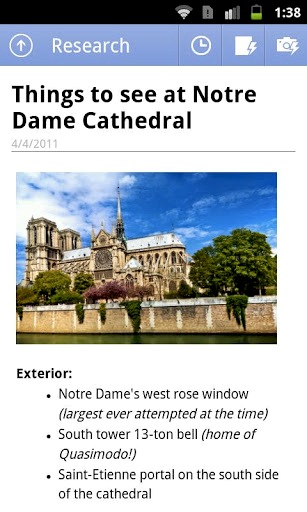 For years, OneNote seemed like a promise without purpose. Microsoft developed a fresh, flexible application capable of pulling together content from many sources and in a way that made creative sense. Sure the Office family member imitated note-taking software already available for the Mac, but with surprising approachability for Microsoft-developed Windows software. But who really used OneNote?
Then during the Office 2007 release cycle, Microsoft swapped out Outlook for OneNote in the low-cost consumer edition and millions of users discovered the promise. But not the purpose. Microsoft would later imbue that quality quite unexpectedly by connecting OneNote to SkyDrive. Sync is the software's killer capability -- that gives purpose to promise behind great usability and remarkable flexibility. Where OneNote and SkyDrive really, well, sync is on mobile devices. Windows Phone, then iPhone, iPad and, today, Android. Yeah, if you use OneNote on the PC and are a two-timing Android user, grab the phone. Microsoft has got a treat for you.
From 50 to 500
OneNote is available immediately for download from Android Market. Microsoft takes crap for lots of things, but distribution is something the company often gets right. OneNote is available in more than 50 countries:
Argentina, Australia, Austria, Belgium, Bolivia, Brazil, Canada, Chile, Colombia, Costa Rica, Cyprus, Czech Republic, Denmark, Dominican Republic, Ecuador, El Salvador, Finland, France, Germany, Greece, Guatemala, Honduras, Hong Kong, Hungary, India, Indonesia, Ireland, Italy, Jamaica, Korea, Luxembourg, Mexico, Netherlands, New Zealand, Nicaragua, Niger, Norway, Panama, Paraguay, Peru, Philippines, Poland, Portugal, Russia, Singapore, South Africa, Spain, Sweden, Switzerland, Taiwan, Trinidad and Tobago, Turkey, United Kingdom, United States, Uruguay, and Venezuela.
The app is free to use for creating up to 500 notes, then you're creativity ends without paying a one-time fee of $4.99. The price is reasonable, so is the free trial. Who let's you use an app essentially 500 times before paying for it? Microsoft calls the one version "free" and the other "unlimited".
If you choose not to upgrade to the unlimited version, you can still view, sync, and delete any of your existing notes even after you've reached the 500 notes limit. However, you will no longer be able to edit your notes or create new ones on your Android phone. For unlimited use pricing outside of the United States, please visit the Android Market in your region (see below for a complete list of supported countries and markets).
Reviewers' Remark
What's that adage? Kids say the darndest things. Grups with new toys are like kids, and they, too, say the darndest things. Mark, a Galaxy S owner, writes in a brief review of OneNote for Android: "Glory hallelujah. Thank you Microsoft. I'm buying your stock now and selling Apple :) Five stars when we have more formatting and other capabilities!" He gives the app four stars.
David, who has Galaxy Tab 10.1, writes:
Almost perfect. Having tried MobileNoter with all of its limitations I was really surprised and pleased at how well integrated and functional this app is. Syncing is quick (both to and from SkyDrive) and I can edit and create new notes with numbered, bullet points and check-boxes.

Finally I can ditch Evernote and go back to OneNote! My only complaint is that, yet again, this is not a tablet optimized app. Screen real estate and time is wasted by navigating between note books and pages when a nice tab/window on the left could have made much quicker. Fingers crossed for a tablet optimized version soon.
I had forgotten about Evernote. It's a great app and companions like Skitch are damn fun. But OneNote is backed by Microsoft, the app is now available on all major mobile platforms and its real kick comes from SkyDrive. As I've often expressed: Sync is the killer app for the connected world.
So, hey, Microsoft where's the rest of Office -- for Android and iOS -- with SkyDrive mopping Apple and Google off the floor?