Mozilla is about to shake up the smartphone industry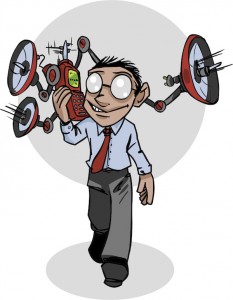 While smartphones are commonplace in the developed world, market penetration in developing countries remains poor. Mozilla aims to change that, and is leaning on two international wireless carriers to make that happen. Both Telefonica and Deutsche Telekom are pledging varying degrees of support for its Boot-to-Gecko (B2G) initiative.
Boot-to-Gecko is Mozilla's browser-based mobile operating system. It uses Web standards like HTML5 at its core peppered with borrowed code from the Android operating system. The end result is an open platform that requires little in the way of raw power to provide users with a full smartphone experience -- perfect for producing phones cheaply.
Some of you may be saying, "I can get an Android device for free, so why would I need B2G"? Here's the thing: that cheap smartphone isn't actually free. The reason why the phone is free is due to subsidies, a distinctly American wireless marketing strategy. In many other parts of the world, carriers do not subsidize phone cost, thus consumers pay full retail price for the phone.
That free phone is actually $200 or $300, or more, you're just not paying for it. In the developing world, that's a lot of money, so these folks turn to feature phones. Much of Telefonica's customers are in Latin America, and it says in much of this region feature phones outsell smartphones by significant margins.
It is for this reason that Telefonica has decided to support the B2G initiative. "From our experience in Latin America we know that a huge part of the market is not being catered for by current smartphones", product development and innovation director Carlos Domingo says. "With new open Web devices we will be able to offer a smartphone experience at the right price point for these customers".
Price is key, and these phones must be manufactured cheaply to be sold to the customer in turn at a cheaper price. Domingo told reporters at a press conference on Monday at Mobile World Congress in Barcelona that a B2G phone would be "ten times cheaper than an iPhone", highlighting the cost savings to the end user through Mozilla's platform. He expects the first B2G devices to debut later this year.
In addition to Telefonica, both Adobe and Qualcomm have pledged support. While it does not appear to be releasing phones immediately based on B2G, Deutsche Telekom plans to offer development resources to the project. DT has an international presence as well, including in less developed countries. The two carriers together gives Mozilla a solid presence across Europe and Latin America.
"It has long been our mission to deliver advanced Web technologies that eliminate roadblocks for users and developers", Mozilla chief technology officer Brendan Eich says. "We did it first with Firefox, and now we're doing it again in creating the first Open Web Devices".
Photo Credit: Tonis Pan/Shutterstock