SAP deploys Samsung Android smartphones, tablets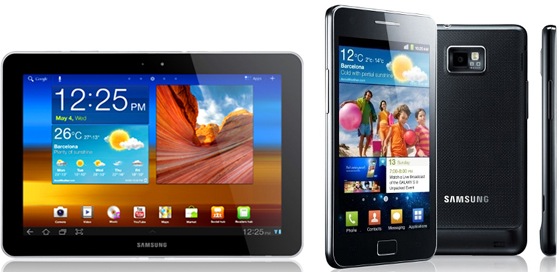 What's all this dirty talk about enterprises going gaga for iPads? During Mobile World Congress, Samsung announced that SAP will deploy Galaxy S II smartphones and Galaxy Tab 10.1 tablets internally. Oh my, perhaps there is a place for Android in the enterprise. But how much room alongside iPad?
SAP CIO Oliver Bussmann says the Android devices will be available to the company's "global workforce as part of our internal device-agnostic strategy. SAP software running on Samsung's Android devices will allow our workforce to do business in the moment". From an enterprise management perspective, he expressed confidence that SAP "can secure our business data on these devices using an extensive range of IT policies".
Among enterprise software, Samsung Androids will run Sybase Afaria 7.0 "mobile device management system". Employees also will use Exchange Account Management for securely sending emails. Technology managers will have granular control over what apps can be downloaded, what devices can be connected and how passwords are used, among other capabilities.
The companies didn't disclose how widely the Android devices would be deployed.
During Mobile World Congress, SAP also announced the aforementioned Afaria 7.0. The highlight new feature is a redesigned user interface.
"The consumerization of IT is driving our innovation path and commitment to providing customers with the industry's most comprehensive, robust and streamlined mobility management platform, including mobile device management", Sanjay Poonen, SAP Global Solutions president, says. "The new, delightful UI significantly enhances the end-user experience while helping reduce management costs for enterprise IT".
SAP's goal is to make enterprise software more "personal".
Afaria 7.0 client software is available for iOS -- to mention before someone does in comments. And, of course, Android, as well as other operating systems.