200,000 apps available for iPad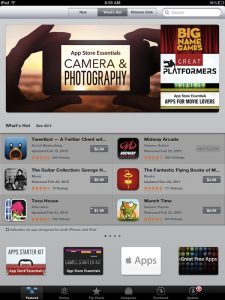 Apple now offers more than 550,000 mobile apps -- 200,000 specifically for iPad. CEO Tim Cook revealed the number today during a special event launching the third-generation iPad. Over the weekend, Apple's App Store reached a mighty milestone -- 25 billion downloads since opening nearly four years ago.
Yesterday, Google rebranded Android Market. What's in a name? In this case lots of foreshadowing that should give open-source developers the willies. Google Play puts the search and information giant's brand front and center, removing Android altogether. Everyone with vested interest in Android should reflect long and hard on what that means, particularly now that with the Motorola Mobility acquisition Google can build its own branded devices.
Google Play clearly is about offering a branded store that more directly competes with Apple's iTunes operation, including App Store, selling digital content of all varieties. Apple's early lead makes iOS an appealing platform to developers and iPad, iPhone and iPod touch users. On tablets, Apple's early tablet lead puts Android at a disadvantage.
Android tablet shipments spiked during Q4, according to Strategy Analytics, but nowhere near parity with iPad. Respective market shares: 39.1 percent to 57.6 percent. However, Android unit shipments tripled year over year: 3.1 million to 10.5 million units compared to iPad's rise to 15.4 million from 7.3 million.
DisplaySearch puts Apple's tablet share higher, 59.1 percent, followed by Amazon (16.7 percent) and Samsung (6.7 percent). If anything, Amazon poses more direct competition to iPad than all Android. Looked at differently: Next to Apple, Amazon is the biggest competitive threat to all other Android tablet makers. In its first, partial quarter of availability, Kindle Fire topped 5 million shipments, according to DisplaySearch.
So Google Play also is about Amazon, and trying to prevent the retailer from fragmenting Android anew. The last thing Google wants is for Amazon, which like Apple offers a curated digital experience, to dominate the Android tablet market.
From that perspective, major division in the Android camp is good for iPad and iOS app sales.