Firefox 11 is available -- get it NOW!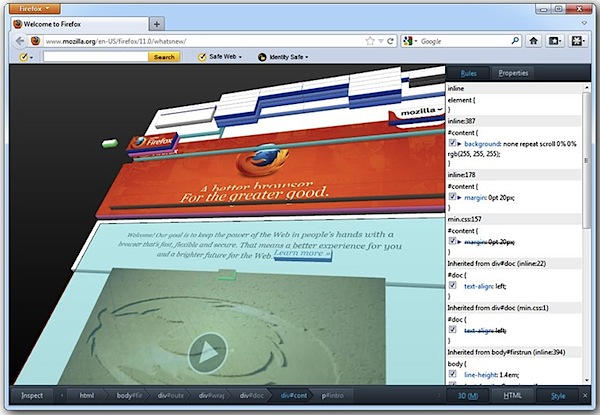 If you can't wait for Mozilla to officially unveil the next stable version of its web browser, the good news is that you can download Firefox 11 FINAL now. One again, minor changes and additions are the order of the day with this new release: add-ons can now be synchronized via Firefox Sync, while those migrating from Google Chrome will find limited support for importing bookmarks and other settings from the browser.
Developers will also be pleased to see additional tools added to the raft of new features introduced in Firefox 9, including a CSS Style Inspector and Tilt (3D) view for the Page Inspector, while Firefox 11 Mobile for Android, finally gains Flash support on Android 2.3 and earlier.
Firefox's Sync option, which allows users to easily run Firefox across multiple computers with the same settings, introduces support for add-ons, allowing users to take their favourite plug-ins with them alongside other settings including bookmarks, history and tabs.
Those wishing to switch to Firefox from Google Chrome will find things easier with the addition of an option to import settings from Chrome -- this feature has been implemented in two stages, with bookmarks, cookies and history available now, and other elements (including passwords, form data and settings) to follow.
The Developer tools have been further augmented after their major overhaul in Firefox 9. The Tilt view in Page Inspector allows developers to view HTML documents in pseudo 3D, allowing them to see how the layers of a site come together. This feature only works on hardware supporting WebGL.
Both Tilt and the new CSS Style Inspector can be toggled on and off from the main Page Inspector toolbar by clicking the new 3D (M) and Style buttons that appear either side of the existing HTML button.
In truth, these additional features won't add much to the existing functionality found in Firefox 11, highlighting once again the evolutionary nature of the rapid release cycle adopted by Mozilla and Google.
Those currently using Firefox Mobile for Android will be pleased to learn that version 11 will introduce one major new feature, support for Adobe's Flash format, when it ships via the Google Play store (formerly Android App Market). Unfortunately Flash will only be supported on Android 2.3 and earlier; although support for Android 3.0 is promised in a "later" release, we could find no mention for this in the Firefox Features/Release Tracking page, which currently goes up to Firefox 14.
With Firefox 12 Beta and Firefox 13 Aurora due to appear, we'll be updating our regular roadmap of Firefox development and revealing what's coming in the next few months to the Firefox browser in the next day or two. In the meantime, Firefox 11 FINAL is available as a free, open-source download for Windows, Mac and Linux. Firefox Mobile 11 for Android should be available to download shortly.