220 tablets for sale but you only want one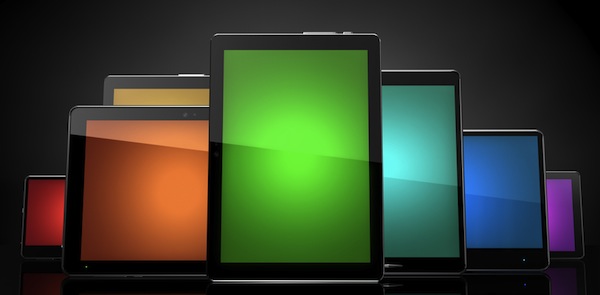 What's the saying about the rock that caused the avalanche? That might be the best analogy for iPad since its launch nearly two years ago. ABI Research says there are now 220 different tablets available globally -- the majority came after iPad. Judging by early new iPad sales, 3 million over the three-day launch weekend, many of you want just one.
But ABI says that will change, particularly as buyers in emerging markets scoop up smaller tablets. Surely that has to be good for Android and perhaps even Windows 8 someday.
"The majority of new entrant media tablet models have been in the sub-$400 segment that focuses on growth markets like India and China", Jeff Orr, ABI group director, says. "The strong wave of growth in this segment over the next few years is expected to be driven by the adoption in emerging markets".
Today, Apple is market leader in the two major segments -- tablets priced above $400 and those with displays larger than 9 inches. These "wide-aspect" tablets accounted for 75 percent of tablet volumes last year -- the majority iPad 2. By 2016, sub-$400, 7-to-9-inch tablets will account for 60 percent of tablet market share, ABI predicts.
Akin to tablets are ereaders. More than 30 models are available, and shipments grew 33 percent year over year in 2011. ABI predicts more modest 20 percent growth this year.
"Availability of competing models increases options for consumers and will help to boost ereader adoption", Aishwarya Singh, ABI research analyst, says. "However, the slower pace of digitization of local content will be the key market inhibitor for adoption of ebook readers, as well as media tablets, in the emerging markets".
I got to wondering about that and did some quick research on China. Competition there is fierce, with new ebook sellers coming to market (buy360.com, this month) and prices plummeting. In China, it's not unusual for ebooks to sell for 75 percent less than print. A movie typically costs 70 yuan at the cinema, while an ebook might be 2.5 yuan -- less than a can of soda at the theater.
Apple is rumored to be working on a sub-9-inch tablet, which, with iBookstore, would make it a fair competitor to ereaders -- as Amazon Kindle Fire already is today. Last month I asked: "Would you buy an 8-inch iPad?" Fifty-five percent of the 3,574 respondents answered "Yes".
"I have had a 7-inch Android tablet for over a year", commenter LS650 responds. "I really prefer the smaller format over my roommate's 10-inch iPad. If there were a smaller iPad I would definitely consider buying one".
Paul Smith: "I absolutely believe people would buy an 8-inch iPad, at a lower price".
"A smaller screen at a lower price point would be perfect for kids and other entry level users", JEPaul comments. "From a marketing perspective, these users would most likely stick with an apple product and ultimately upgrade to the bigger more expensive version. I see this as a win-win for Apple and the consumer".
So the question for ABI and other tablet forecasters: What if that 7-to-9-inch tablet is iPad? What of the 220 then?
Photo Credit: CLIPAREA l Custom media/Shutterstock