Consumer Reports whores for pageviews (again), recommends new iPad after calling it hotter than hell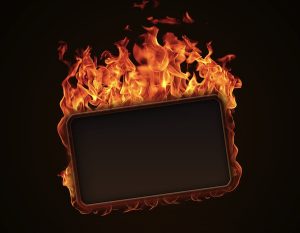 Consumer Reports does it again. Lo and behold, after causing a media firestorm over its blatant attempt at whoring for pageviews, the supposedly impartial source for product reviews is now actually going to recommend the new iPad as the top tablet available.
You read that right. "Heatgate" was supposedly a big enough issue to cause the company to write several posts on it, without quantifying that the iPad is not hotter than other competing tablets or (basically) every laptop on the market. CR is doing an about face, now saying the device's heat generation is no longer a problem.
"The high-resolution screen of the new iPad establishes a new benchmark in excellence, providing the best rendering of detail and color accuracy we've ever seen on a tablet display", reviewer Donna L. Tapellini quips. "As a result, the iPad tops our new tablet Ratings, posted today".
Well Donna, that's nice. Nearly two weeks ago your outfit was telling us that "Heatgate" was a major issue. Looks like you're leading the charge by CR to pull back on those comments by this next excerpt.
"Responding to consumer comments on the new device, and to coverage from other reviewers, we also carried out further tests that confirmed the new iPad is warmer in its hottest spots than the iPad 2", she says. "But we didn't find those temperatures to be cause for concern".
Tapellini touches on the whole charging issue briefly as well, but says neither of these issues affected CR from giving the device high marks. Color me confused as to why in the first place "Heatgate" was even necessary. At least with the iPhone 4, you guys didn't recommend it? Ugh.
You may notice I have not linked their report in this response, and that's completely on purpose. Consumer Reports has lost a lot of credibility here in the past several weeks, and it has come across as blatant pageview whoring. I absolutely refuse to give them any more pageviews for a manufactured problem.
The rest of the media should too. Consumer Reports is getting nothing here that it doesn't deserve. Maybe this will send a message to those folks what is appropriate when it comes to being supposedly impartial, which I'd argue it now appears they are not.
As Instapaper founder Marco Arment says on Twitter this morning: "I'd link to today's Consumer Reports contradiction of their previous sensational garbage, but it's just not worth sending more pageviews".
Amen.
Photo Credit: Mary_L/Shutterstock