Apple had an 'incredible quarter in China'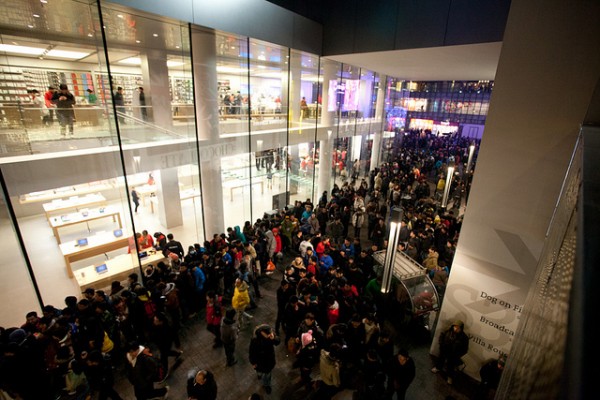 Today after the closing bell, Apple announced fiscal 2012 second quarter results, with earnings up a staggering 94 percent year over year. But one region -- and within it a single country -- stood out for performance and closed on the United States as Apple's most important market as measured by sales.
Apple revenue to Asia-Pacific rose a staggering 114 percent to $10.15 billion. That data excludes Japan, where sales soared 91 percent. By comparison, Americas revenue topped $13.2 billion, up 41 percent year over year. During the quarter, Asia-Pacific pushed past Europe to be Apple's second most important region, as measured by revenue. In that region, China rises above all other countries.
"It was an incredible quarter in China", says Apple CEO Tim Cook, speaking during today's earnings conference call. "Revenue was a record at $7.9 billion in greater China, which is up over three times year over year and brings the first half revenue for greater China to $12.4 billion. That compares to a full year of last year of $13.3 billion".
Stated differently, China accounted for 78 percent of Asia-Pacific region revenues fiscal second quarter.
"Part of this was the pent-up demand for iPhone 4S", he explains. "As you know we launched in mainland China in January. China was not able to get into the Q1 period, so all of that is in Q2".
Demand was so great for iPhone 4S, Apple postponed the launch to protect store employees and customers. Crowds nearly rioted.
"We also have very strong demand for iPad 2", Cook says. "We have not shipped in China yet the new iPad, although we are shipping in Hong Kong".
Apple's iPad and iPhone sales success has other benefits. "It's a combination of these things and the halo that both of these products has produced for the Mac is also incredible", Cook explains. "Mac was up over 60 percent year over year, and that compares to a market rate of growth of about 6 percent".
What China lacks, particularly compared to North America, is distribution. "We have expanded point of sales", Cook says. "On a year-over-year basis Mac is up 70 percent, but still only 1,800 [outlets] for all of greater China. Obviously there is a lot more opportunity there. iPhone we're up over 11,000, which is up 138 percent. But 11,000 is a much smaller than the number we have in the US. Obviously China in the next few years will be a bigger opportunity. iPad is only in 2,500 points of sale. Yes, we've expanded, expanded a lot. However, there is a lot of headroom here in our view".
China's broader importance to Apple cannot be understated, particularly in a country where many Internet users will first use smartphone, or even tablet, as first connected device -- rather than a PC. It's a market all cloud-connected device makers covet.
"It is mindbggling that we could do this well", Cook exclaims.
Photo Credit: Elizabeth Phung