iPhone meets its match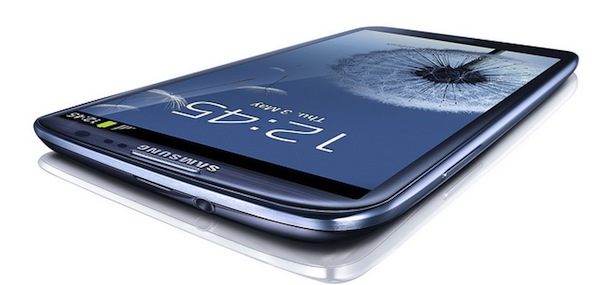 Finally, initial sales of another smartphone smoke iPhone -- that is if leaked numbers prove true. Samsung Galaxy S III goes on sale in 11 days, but preorders reportedly already top 9 million. By comparison, the much-lauded iPhone 4S sold 4 million units, including preorders, during its first three days of availability. At this pace, Galaxy S III is poised to be the biggest smartphone launch to date.
Samsung announced the smartphone on May 3, when I asked: "Is iPhone 4S obsolete?" Surely someone thinks so, and their answer should chill the hearts of Apple apologists and investors. Samsung, not Apple, is the rising star in the cloud-connected device firmament. Perhaps iPhone 5 will change matters. But for now, Samsung, propelled by the Galaxy S brand, broad channel distribution and smart software innovation, is brightest star.
Samsung Sales eclipse Apple's
Many of you are among those early buyers. Four days ago I asked: "Will you buy Samsung Galaxy S III?" Among the 1,195 responses so far, 18.16 percent have preordered or plan to. Another 41.59 percent plan to buy within 3 months. Less than one-quarter, 24.02 percent, won't buy the S3. Granted, the responses represent more of a gadget audience and are unqualified -- meaning I don't know who you are.
But the numbers jive with other trends. Based on sales to end users, rather than shipments into the channel, Samsung snatched overall phone leadership from Nokia and smartphone top-ranking from Apple during first quarter. Samsung sold 38 million smartphones -- 86.6 million for all handsets -- to Apple's 35.1 million, according to Gartner. Something else: Samsung accounted for 40 percent of Android sales. That's right, four out of every 10 recent Android smartphone buyers got a Samsung.
Several factors work in Samsung's favor -- and that of Galaxy S III. While the handset will initially launch in Europe, Samsung plans to rapidly reach 296 carriers in 145 countries. Apple offers iPhone 4S through 230 carriers in 100 countries. Samsung marketing, particularly its make-fun-of iPhone users campaign, is effective. For example, the first two "Next Big Thing Commercials", which first aired November 22 and December 2, affected "iPhone's consumer perception, sending it into decline around the time the first ad appeared and continuing now," Ted Marzilli, YouGov BrandIndex managing director, said then. "At the same time, Samsung's perception has crept up gradually and just surpassed iPhone last week".
But it's Samsung's innovation in the absence of Apple's that makes the difference. Remember, iPhone 4S wasn't the big upgrade everyone expected. In some respects, neither is Galaxy S III. Sure there's a quad-core processor, LTE and larger display (4.8 inches to Galaxy S II's 4.3 inch or 4.5 inch). But Samsung chose to pack in the big benefits elsewhere.
Apple's Luck runs Out
For that, Apple execs should consider themselves lucky that Samsung doesn't have a marketing personality like Steve Jobs and worry there's no "reality distortion field" peddler for iPhone 5. Galaxy S III promises some truly innovative software features supporting the hardware, most of which would have received "My God, Apple has done it again" blog, news and social media response if introduced by Jobs. Much of Samsung's innovation extends from the foundation that Google laid with Android 4 "Ice Cream Sandwich". Meaning: Other Android licensees can do it, too.
Rather than blow out the hardware specs, Samsung focused on benefits that make the phone more responsive to the user. The original iPhone stood apart from all other handsets, not just smart ones, for its humanness. Touch, and its intimacy, and the way the handset responded to your proximity gave it a human quality. Suddenly the phone wasn't an inanimate object but more living thing.
Samsung seeks to bring this quality to Galaxy S III, and it's centerpiece to the product marketing. For example, the front camera detects whether the user is looking at the phone and keeps the screen lit. How many times has your display gone dark while reading a website or ebook? The phone also can automatically turn on, if recognizing your face. The feature, called "Smart Stay", is real innovation, not Samsung copying Apple. It's also stark example of Samsung out-Appling Apple by focusing on features that offer real benefits. This and other new features match responsive capabilities to hardware sensors.
Still, hardware-wise, Galaxy S III is no slouch: 4.8-inch Super AMOLED display (306 ppi) with 1280 x 720 resolution; 1.4GHz quad-core processor; 1GB RAM; 16GB or 32GB storage (64GB in future), expandable with microSD card; HSPA+ 21Mbps (850/900/1900/2100), 4G LTE, GSM/EDGE (850/900/1800/1900); 8-megapixel rear-facing and 1.9MP front-facing cameras; LED flash; zero shutter-lag; 1080p video recording; accelerometer; ambient-light sensor; gyroscope; GPS; proximity sensor; digital compass; NFC, Bluetooth 3.0; WiFi N; 2100 mAh battery; carrier locked; Android 4.0 and TouchWiz "nature" UI. Measurements: 136.6 x 70.6 x 8.6 mm, 133 grams.
The entire package definitely entices many of you. "The iPhone is a great phone to look at but looking at a phone quickly becomes boring", Roger Seabrook comments. "I have an S3 on preorder". Dallas Twiford: "I'll be buying this phone, it's a freaking beast".
I ask again: Will you buy Galaxy S III? Please answer in comments below and take the poll above, if you haven't already.
Photo Credit: Samsung