Smartphone market consolidates around Apple and Samsung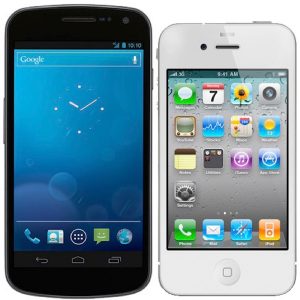 Today, Gartner put to end weeks of cellular handset debate. Apple apologists disputed Samsung's smartphone success over iPhone -- the presumption that the South Korean electronics giant benefits from greater shipments vs actual sales. Make no mistake: Samsung is the global leader overall and in the smartphone category, based on actual sales. Apologist arguments be damned.
That said, Apple's position is solid. Together, Apple and Samsung combined smartphone sales market share approaches 50 percent. Contrary to speculation that Windows Phone might appear as a third dominant mobile OS, the market is set to largely split between two vendors. As I explained three weeks ago in post, "Google has lost control of Android", Sasmung's rise isn't necessarily good for the broader ecosystem.
Sales vs Shipments
During first quarter, Samsung sold 38 million smartphones, compared to 33.1 million iPhones, decisively snatching back the top spot, according to Gartner. Meanwhile Samsung represented more than 40 percent of all Android smartphone sales, with no competitor topping 10 percent. Meanwhile, Samsung stole Nokia's crown, by becoming overall global handset sales leader.
Gartner's data is the most revealing, because it represents sales to end users rather than shipments into the channel. Since Samsung first boasted about 3 million Galaxy S II sales during the first 55 days, Apple apologists have disputed the figure, and others that followed. Gartner leaves little room for error. Apple claimed 35.1 million sold, but that's really shipped, given Gartner put actual sales 2 million units lower. Samsung no longer discloses sales data, but IDC reports 42.2 million smartphone shipments during Q1. Assuming Gartner and IDC numbers reconcile, that's 4.2 million more Samsung smartphone shipped into the channel than sold, which is a reasonable number for keeping store shelves stocked.
"Shipments are not sales, and therefore they present only a partial account of the success or failure of a product or an item", Stephen Baker, NPD's vice president of industry analysis, says. He makes the distinction regarding Kindle Fire, which unit shipments plunged from 4.7 million to 700,000 between fourth and first quarters, according to IDC.
Baker observes that Amazon filled the retail channel during Kindle Fire's launch quarter. Actual sales: 3.8 million then and 1.8 million during Q1. "If you add up those two sales figures you get a number almost exactly the same as IDC's shipment number", Baker observes. "Looking at the numbers from that actual sales perspective the concept that Kindle Fire sales collapsed in Q1 becomes absurd". The point: Only actual sales figures are truly reliable.
Market Turbulence
Sales show Samsung rising above all other Android handset manufacturers as well as iPhone. All this before the hotly anticipated Galaxy S III ships in 13 days internationally. Strangely, in Apple, Samsung has a benefactor. US Customs has stopped importation of HTC One X and EVO 4G LTE -- two fearsome Androids -- clearing away two of the S3's biggest competitors available on these shores. Officials halted HTC shipments as they evaluate whether the handsets violate Apple patents.
Samsung's rise to dominance comes during an uncertain period for smartphones, which stands to solidify its position against Android rivals and even iPhone. Overall handset sales declined 2 percent year over year to 419.1 million units -- that's down sequentially from 476.5 million handsets.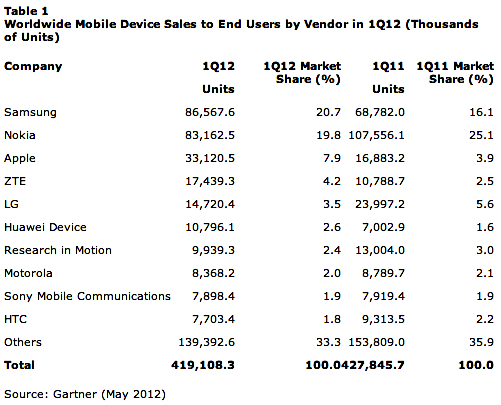 "The lower results in the first quarter of 2012 have led us to be cautious about sales for the remainder of the year", Annette Zimmermann, Gartner principal research analyst, says. "As we are starting to update our market forecast we feel a downward adjustment to our 2012 figures, in the range of 20 million units, is unavoidable".
However, smartphone sales continued their strong upward trajectory, rising 44.7 percent year over year to 144.4 million. Though, sales fell from 149 million units sequentially.
The China Syndrome
"Global sales of mobile devices declined more than expected due to a slowdown in demand from the Asia/Pacific region", Anshul Gupta, Gartner principal research analyst, says. "The first quarter, traditionally the strongest quarter for Asia, which is driven by Chinese New Year, saw a lack of new product launches from leading manufacturers, and users delayed upgrades in the hope of better smartphone deals arriving later in the year".
To its credit, Apple capitalized on the Chinese New Year. iPhone 4S went on sale in China 10 days before the January 23rd holiday, leading to a sales surge in the region.
"It was an incredible quarter in China", Apple CEO Tim Cook said during calendar first quarter earnings conference call last month. "Part of this was the pent-up demand for iPhone 4S".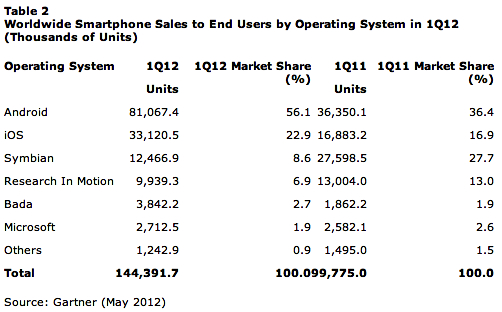 He emphasized: "Revenue was a record, at $7.9 billion in greater China, which is up over three times year over year and brings the first half revenue for greater China to $12.4 billion. That compares to a full year of last year of $13.3 billion". Stated differently, China accounted for 78 percent of Asia-Pacific region revenues during the quarter.
Samsung also makes huge inroads to China, but didn't have something spanking new to sell for the new year celebration. That will come with Galaxy S III, which is expected to reach the Mainland long before Apple ships iPhone 5 (or whatever it's named).
But Apple and Samsung aren't alone. "The continued roll-out of third generation 3G-based smartphones by local and regional manufacturers such as Huawei, ZTE, Lenovo, Yulong and TCL Communication should help spur demand in China", Zimmermann says.
Two Market Leaders
Looking ahead, Samsung and Apple look to sop up Nokia's remains -- and for Android to solidify an already strong position over every rival mobile operating system, including Apple's. Nokia market share slumped from 25.1 percent year over year to 19.8 percent in the broader handset market, or a 22.7 percent decline. Nokia is caught between a rock and a hard place -- declining feature phone sales and Windows Phone transition -- that puts it in worse position: The Apple and Samsung trash compactor.
"Smartphone sales are becoming of paramount importance at a worldwide level", Gupta says. "For example, smartphone volumes contributed to approximately 43.9 percent of overall sales for Samsung as opposed to 16 percent for Nokia". They're 100 percent for Apple.
Samsung global handset market share rose to 20.7 percent from 16.1 percent a year earlier, or 25.9 percent increase. However, Apple sales rose considerably more, up 96.2 percent, bringing market share to 7.9 percent from 3.9 percent a year earlier. While Samsung and Apple rank first and second, respectively, in smartphones, iPhone's maker moved into third place for all handsets. Should Nokia's decline continue, while Apple rises, something quite dramatic could occur within the year: Apple and Sumsung dividing up not just smartphone sales but the entire global handset market.
Samsung's rise pulls Android along. The operating system had 56.1 percent smartphone sales share during Q1 -- that's up from 36.4 percent a year earlier. As aforementioned, Samsung accounts for 40 percent of all Android sales. By comparison, iOS share rose to 22.9 percent from 16.9 percent. However, iOS lost share sequentially -- on overall market shipments, which accentuates the decline more than it appears. iOS share fell nearly 1 point, while Android gained more than 5 points.
However, Android share gains deceive, as commoditization increases. "Most players are finding it hard to break the mould", Gupta says. "At the high end, hardware features coupled with applications and services are helping differentiation, but this is restricted to major players with intellectual property assets".
The point is crucial as patent lawsuits, the most prominent lead by Apple, stifle innovation. Here on BetaNews, I've called Apple a patent bully and troll, accused it of litigating rather than innovating and called the lawsuits hypocritical.
As patent-warfare stifles innovation and Android licensees struggle to stand apart from one another, "price is increasingly becoming the sole differentiator", Gupta says. "This will only worsen with the entry of new players and the dominance of Chinese manufacturers, leading to increased competition, low profitability and scattered market share". That's good for Apple margins and market consolidation around the two leaders.