Tell me, in what alternative universe does Chrome usage surpass Internet Explorer?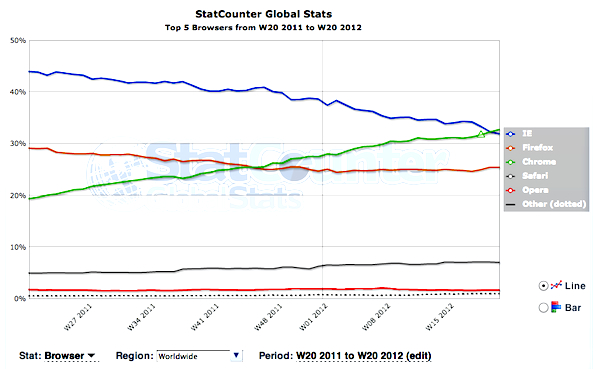 Surely it can't be this one, but that's what StatCounter's weekly report would have you believe. Can it be true? Has IE really fallen so low and Chrome come so far? That's my question for you, as we revive our browser usage poll.
For the week May 14-20, IE global usage share is 31.94 percent compared to 32.76 percent for Chrome. This change in leadership comes after a May 1 methodology adjustment that should penalize Chrome. Google's browser pre-renders pages to speed up search, but not all are viewed. StatCounter now adjusts for them. I must say that StatCounter's data dramatically differs from Net Applications', which on May 1 put Chrome third to Firefox and IE usage about three times more.
Regionally, huge variances appear, according to StatCounter. For example, for the same week, in the United States, IE share is 37.81 percent, while Chrome is 23.83 percent, just ahead of Firefox (22.51 percent). In China, where Windows piracy is rampant, IE gets a big boost over Chrome: 72.81 percent to 12.79 percent usage share. United Kingdom: 36.81 percent to 28.95 percent, respectively. In Kenya Chrome is 19.85 percent to IE's 18.69 percent. However, Firefox is overwhelming usage share leader: 55.25 percent. In the other three countries, Chrome ranks higher than Firefox.
About eight months ago, I polled BetaNews readers about browser usage. I long ago closed the poll, which after 4,594 votes put Chrome ahead of IE as your "primary web browser": 40.01 percent and 22.12 percent, respectively. It's time for a new one, but so I can keep it open longer browser versions are excluded. Firefox and Google release new versions about every six weeks, which doesn't give any poll of this kind much shelf life.
I'll fess up before you do. Chrome is my primary web browser, and it has been since late 2010. The reasons aren't rocket science. Google rapidly innovates Chrome, improving features and increasing benefits. Absolutely I use other browsers and should when writing about technology. But superior sync capabilities, satisfying performance, security hardiness and ongoing improvements keep me hooked.
However, I find Chrome to be a memory hog, particularly on Windows, where it poorly cleans up after closing. I typically must use Task Manager to manually close open Chrome processes.
Firefox would be my preferred second choice, followed by Internet Explorer, Opera and Safari. Apple, which should set the standard for WebKit browsers, cedes innovation leadership to Google. That's too bad, since hundreds of millions of iOS users don't have much choice. Mobile Safari is their default choice, and Apple doesn't allow truly competitive browsers in the App Store.
But what about you? Which is your "preferred" primary web browser -- that is how I rephrase the question for the new poll. I want to know the primary browser when you can choose, not when dictated by say school or workplace.
Another question: Do you believe that IE usage share exceeds Chrome? I don't, and that's no disrespect to StatCounter. The data doesn't jive with NetApps, which I must admit to favoring for reporting browser usage. I think of NetApps as old reliable measuring this data. But perhaps StatCounter's methodology is superior or offers a different perspective about browsers. Certainly the weekly data caught my attention.
Is it this universe or another that Chrome is king? Please answer below and take the poll above.