Confused yet? NetApps ranks Internet Explorer No. 1 (Microsoft agrees), but StatCounter puts Chrome tops (Google agrees)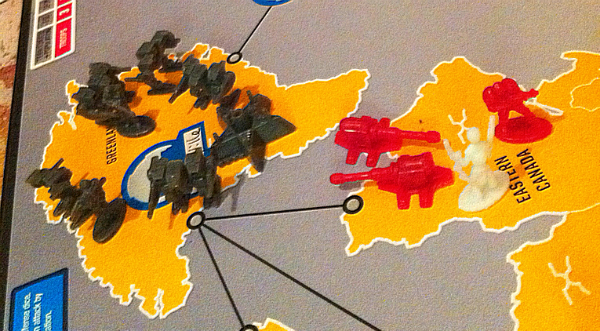 The battle of the browsers reached new territory in May, as IE and Chrome directly engaged for the first time. Firefox is collateral damage -- destined to fall to No. 3, whether by Net Applications' or StatCounter's reckoning. Mozilla's open-source champion that took back the web from Microsoft, falls before Chrome's advances. The browser wars are back with a vengeance and the heretofore top two are in retreat. Well, depending on whose counting you believe.
While the top browser, as measured by usage share, may be disputed, Firefox's decline is not. StatCounter put Chrome ahead of Firefox last summer. NetApps has the Mozilla browser and Chrome in a May photo finish -- 19.71 percent and 19.58 percent share, respectively. Given the downward and upward trajectories of both, Google's browser is all but certain to claim second place during June. Firefox's decline is all but inevitable -- that despite Mozilla adopting similar fast-track development that sets both browsers' apart from slow-updating Internet Explorer and Safari.
If NetApps is to be believed, Microsoft needs only worry about which competitor is No. 2. IE usage share was 54.05 percent in May, down slightly from 54.09 percent in April. IE share has fallen from 75.47 percent in January 2008, first eroded by Firefox and later Chrome, which officially shipped in December of that year. StatCounter ranks the browsers remarkably differently -- Chrome leads with 32.43 percent usage share, followed by IE and Firefox, with 32.12 percent and 25.55 percent, respectively.
"The browser wars are back with a vengeance", StatCounter CEO Aodhan Cullen says. "This time there are three major players competing for the top spot but, ultimately, the real winner will be the end user who can look forward to more choice and innovation as a result of this increased competition".
StatCounter's full-month data corroborates that for the week May 14-20, when Chrome nudged ahead of IE. Unsurprisingly, Microsoft regards NetApps' data as more credible. In March, Roger Capriotti, director of Internet Explorer product marketing, peeled back StatCounter's methodology layer by layer, repeatedly impugning its credibility while praising NetApps. Among his points:
Net Applications actually reports usage share based on unique visitors. It is this type of analysis that allows them to achieve more accurate representations of browsing habits and actual usage by removing Chrome prerendering traffic (4.3 percent last month) in an effort to separate real page views from invisible page views. It is also seen as a more accurate way to determine actual browser usage because it is less susceptible to fraud.
Google now prerenders pages for the purpose of offering search suggestions as users type and to deliver the results more quickly. However, NetApps started adjusting for prerending in May, which had little to no perceptible impact on Chrome's share rise, which diminishes one of Microsoft's core StatCounter criticisms.

It's no shocker that Google supports StatCounter's results. Yesterday, during the D10 conference in Rancho Palos Verdes, Google senior veep Sundar Pichai told veteran tech journalist Walt Mossberg: "Our internal data corresponds pretty well with what StatCounter quoted. We are No. 1 or a bare No. 2 in almost all the countries in the world". Chrome is most popular in emerging markets, where in some "our share is over 50 percent there today".
While NetApps and StatCounter are leaders compiling browser usage data, they aren't alone. W3Counter is another tracker, but I don't see a May report available this morning. In April, W3Counter ranked IE tops with 28.9 percent share, followed by Chrome and Firefox, with 25.9 percent and 24.1 percent share, respectively. While Chrome trails IE, the trend more closely aligns with StatCounter than NetApps.
Clicky also offers browser share data. IE and Chrome played kissing cousins on May 27 with 31.38 percent and 31.47 percent share, respectively. Again, the trend is more in line with StatCounter than NetApps.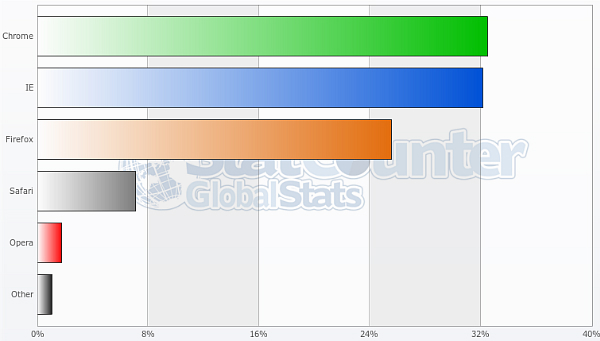 In April 2011 I asked: "Is web browser development moving to fast?". After all, Microsoft bet on stability -- that businesses need something they can put in place and leave there for a long time. Google's approach means new versions in stable or beta channels about every six weeks. But perhaps fast-track development has merits.
Certainly, many BetaNews readers don't mind or even embrace the six-week cycles. Among the 1,437 that so far responded to our browser poll, Chrome is "preferred primary" among 46.69 percent of you, followed by Firefox and IE with 25.47 percent and 19.35 percent, respectively.
No matter where Chrome ranks in relation to Internet Explorer, Firefox is the loser, but by no means finished. "While attention has recently been focused on the battle between Chrome and IE, not-for-profit Mozilla's Firefox with its loyal membership base should not be underestimated", Cullen says. Is he right?
Photo Credit: Marc Majcher