OS X Mountain Lion launches in July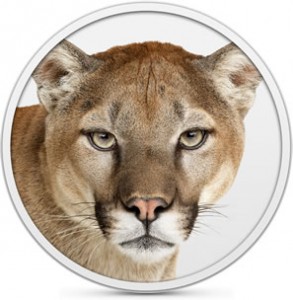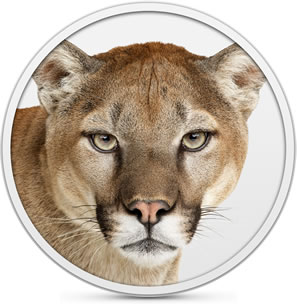 Today, at Worldwide Developer Conference, Apple laid a big challenge before Microsoft. While Windows 8 continues in testing, and won't come to new PCs until autumn, the next OS X version is ready for the masses sooner, as in next month. In the battle of oneupmanship, Apple is the clear winner. Today, Apple launches an OS war against Microsoft. The company also announced new MacBook Airs and Pros, which ship immediately, with free upgrades to Mountain Lion.
During the WWDC keynote, Apple revealed there are 66 million Mac user worldwide, which is three times the number five years ago. Apple has shipped 26 million copies of Lion to date, accounting for 40 percent of the install base. That's seems low considering it costs just $29.99.
Perhaps even 30 bucks isn't low enough. Like predecessor Lion, OS X 10.8 will be available via the Mac App Store but sell for $19.99, for multiple machines. In a stunning contrast, Microsoft charges purchasers of new Windows PCs $15 for an upgrade. They don't get the full product and can use it on only one computer. That foreshadows Microsoft charging considerably more for Windows 8, like its forebears, than Apple does for OS X.
Apple gains first-to-market and mindshare/marketing advantage during the crucial back-to-school buying period, while Microsoft and its partners wait on the sidelines. Don't be surprised if new OS X laptops combined with the new iPad give Apple a big educational sales boost during third calendar quarter.
OS X is primed for the cloud, with synchronization the key benefit shared among most of the new capabilities. More broadly, Apple increasingly blurs the differences between core iOS and OS X features. Among the new capabilities:
iCloud. Apple touts sync capabilities coming in OS X 10.8, that iOS users already use as well as those on OS X 10.7. There are 125 million iCloud users. Today, Apple re-emphasized Documents in the Cloud syncing capabilities.
iCloud Tabs. Among Safari's new features is a capability borrowed from Chrome. Tabs now sync across devices, much as they do in Google's browser.
Messages. The app replaces iChat, bringing the messaging client in line with iOS. The feature relies heavily on sync to keep the message thread going. Start a message on the Mac and resume it on iPad or iPhone. Capabilities include message delivery and read notifications.
Gatekeeper. Can you say copycat? One of Windows 8's hallmark new features is the new security architecture, bolstered by app distribution through Windows Store. Apple makes claims, too, giving users more control of app installations, leveraging Mac App Store to curate applications and boasting capability to remotely remove apps (should malware sneak through); Google uses similar remote removal capabilities in Android Market.
Dictation. Users can talk to their Macs. This includes apps, like Microsoft Word, or even Facebook. How Star Trek is that?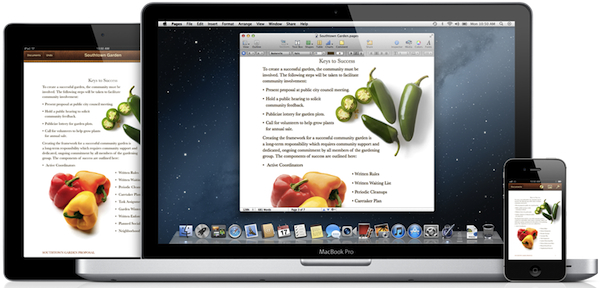 China. "Huh?" you ask. "China is a feature?" Apparently it is, so to speak, or important enough for Apple to call out. China is Apple's second-most important market (next to North America).
According to Apple marketing material:
OS X Mountain Lion brings all-new support for many popular Chinese services. And they're easy to set up. Mail, Contacts, and Calendar work with QQ, 163, and 126. Baidu, the leading Chinese search provider, is a built-in option in Safari. The video-sharing websites Youku and Tudou are included in the new Share Sheets, so users in China can easily post videos to the web. They can also blog with Sina weibo, the popular microblogging service. And with improved text input, typing in Chinese is easier, faster and more accurate.
Notification Center. Well, the feature borrowed from Android for iOS 5 makes its way to the Mac. It's an essential capability for tying Macs to iOS devices as communications/social hubs.
Reminders. It's an enhanced, synced to-do list.
Power Nap. OS X will automatically backup and sync. Say, isn't this also a capability coming in new Windows Ultrabooks?
Notes. Apple looks to make mincement out of Microsoft OneNote for iPad connected to SkyDrive. According to Apple's marketing material: "Notes in OS X Mountain Lion is designed for whatever's on your mind. Think it up. Jot it down. Make it even more noteworthy with photos, images, and attachments...Notes works with iCloud, so when you create or edit a note on your Mac, it automatically updates on your iPhone, iPad, and iPod touch". That sounds a lot like OneNote to me, minus the one.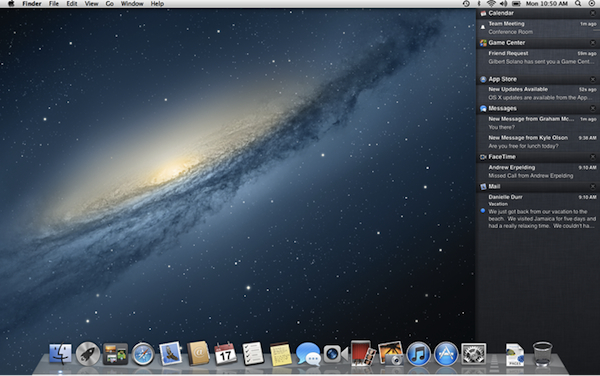 Twitter. Like iOS, Mountain Lion users will be able to tweet across the OS and from apps tapping into the API.
Share Sheets. We love to share stuff. Human beings are naturally social. Apple will add share buttons throughout OS X 10.8, much like iOS 5 today.
AirPlay Mirroring. This feature extends Mac-to-Apple TV capabilities already available.
GameCenter. Is any explanation needed? This popular iOS feature comes to the Mac.
Something else: The operating system is primed for the new 15.4-inch MacBook Pro's stunning 2880 x 1880 pixel display.