IDC will finally count Windows tablets with iPads and Androids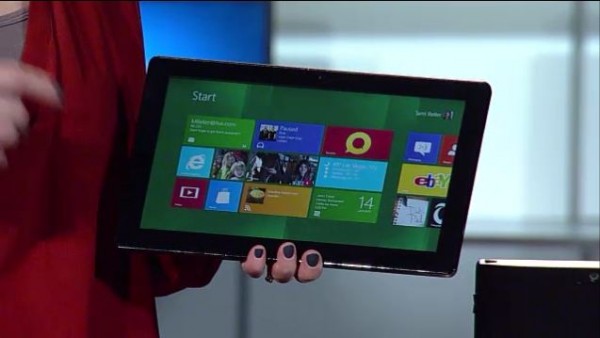 Hopefully, Gartner and other analyst firms will show as much sense.
Windows tablets have gotten the shaft from IDC and other analyst firms for far too long. They count the devices as PCs, not tablets. Last year, after Gartner's tablet forecast failed to include Windows, several prominent bloggers fanned the flames of misinformation, wrongly concluding Microsoft's OS would have no share by 2015. Today, IDC issued a new forecast that still ignores Windows tablets, but changes are promised.
"We're looking forward to rolling the Windows-based tablets into our tablet forecast in order to give customers a complete view of tablet slates all in one place", Tom Mainelli, IDC research director, says. The research firm will adjust its taxonomy to include Windows 8 and RT tablets, starting next quarter. The first devices running the operating systems are expected to ship by mid-autumn.
However, inclusion doesn't mean much, and I wonder if IDC analysts put too little stock in Microsoft's leverage from its duopoly position -- Office and Windows. "Our current thinking, based upon early pricing expectations for these products, is that Windows-based tablets will be largely additive to our existing media tablet market forecast", Mainelli says. "We don't expect Windows-based tablets to necessarily take share from Apple and Android, but will grow the overall tablet market".
That's a polite way of saying they'll cost too much. Price is a hot topic this week, after reports from Computex estimate OEMs will pay Microsoft around $85 per copy of Windows RT, which tablets many had viewed as being more competitive with iPad and Androids, because of ARM chip support and approach to platform architecture. That price surely will put Windows RT tablet prices much higher than iPad and Androids. Apple realizes the cost of iOS as part of its research and development, while Android is free -- well, except to those OEMs paying Microsoft's patent tax. Effectively, Windows RT adds $85 to the cost of every tablet, unless Microsoft gravely discounts for smaller form factors.
Something else -- and, again, Windows gets the analyst shaft: Based on last week's Computex announcements, many of the most compelling Windows 8 models are hybrids that have touchscreens and keyboards. Are these tweeners PCs or tablets? The answer is important to perceptions. If, for example, Windows 8 tweener forecasts are for high-volume shipments but they're counted as PCs, then Microsoft's OS would look weaker on tablets than Apple's or Google's going forward. Based on Mainelli's statements, separate categorization should be expected. One solution is to follow the approach Canalys and NPD DisplaySearch take and lump PCs and tablets together.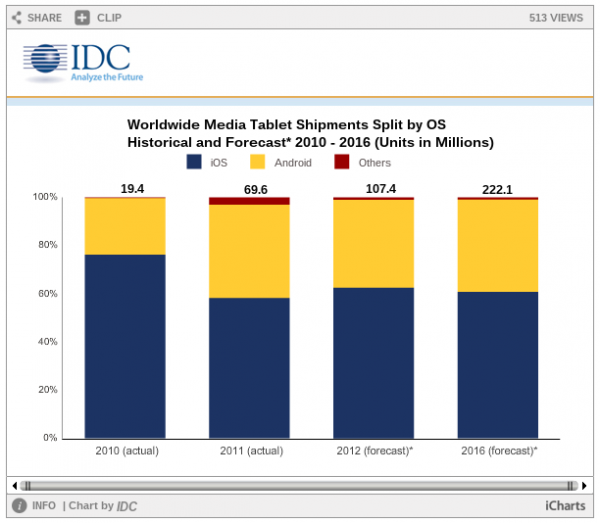 IDC is overall bullish about tablet shipments during second half, and Mainelli acknowledges Microsoft's contribution: "Demand for media tablets remains robust, and we see an increasing interest in the category from the commercial side. We expect pending new products from major players, increasingly affordable mainstream devices, and a huge marketing blitz from Microsoft around Windows 8 to drive increased consumer interest in the category through the end of the year".
As such, the analyst firm raised its forecast:
2012: 107.4 million, up from 106.1 million
2013: 142.8 million, up from 137.4 million
2016: 222.1 million
The analyst firm also adjusted market share, raising iPad to 62.5 percent from 58.2 percent and lowering Android tablets to 36.5 percent from 38.7 percent. IDC reckons shipments based on tablet operating system.
"After a very strong launch of new products in March, Apple's iPad shows few signs of slowing down", Mainelli says. "The addition of the Retina Display and 4G capabilities to the third-generation products clearly enticed many current owners to upgrade. And Apple's decision to keep two iPad 2s in the market at lower prices -- moving the entry-level price down to $399 -- seems to be paying off as well".
The non-iOS, non-Windows market is pushing down to 7-inch models, which sell for considerably less, such as the $199 Kindle Fire and $249 Samsung Galaxy Tab 2.7.0. Google is rumored to debut a $199 Nexus tablet during its developer conference, starting June 27.
"If Apple launches a sub-$300, 7-inch product into the market later this year as rumored, we expect the company's grip on this market to become even stronger", Mainelli predicts.