Would you sell your iPad and buy Google Nexus 7?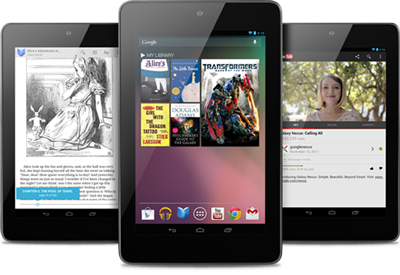 I ask because this morning I got email from a reader who is doing just that. "I ordered my Nexus 7 yesterday for $249, and I am selling my iPad gen 1 for $200", Brian Fagioli writes. It's not a bad trade-off. The original iPad is obsolete when iOS 6 ships, while Nexus 7 packs the newest Android version, Jelly Bean. But would you, and even for a newer iPad?
Google announced the tablet yesterday at Google I/O. Two models are available for preorder -- 8GB ($199) and 16GB ($249) -- and ship in mid-July. I wouldn't call Nexus 7 an iPad-killer, since it's a product with different ambitions: Reclaiming the Android tablet ecosystem from Kindle Fire. But the lower price and smaller size, and Android 4.1, do appeal. The question is to whom.
I find using Nexus 7 quite similar to Galaxy Nexus, which isn't necessarily good because with the screen sizes so close they feel too much alike. "I also have a Galaxy Nexus and was worried about exactly what you stated: Is the 7-inch screen a big enough difference from my Galaxy Nexus to even warrant a second device?" Fagioli asks. I can't answer until I use them more.
I will sell my Asus Transformer Pad 300 upon return to San Diego from San Francisco. Asus makes both tablets, which have same nVidia Tegra 3 quad-core processor. But I find the performance to be much better on Nexus 7, and Jelly Bean may be a big reason. I do like the size and stock Android as standard.
"I agree that the Nexus 7 is not competition for the iPad, but I think it will lay a solid foundation that will enable Google to compete directly with them with later android tablets", Christopher comments. "As the market currently stands, the only weak point for attacking iPad's dominance is price...If you sell a decently spec'd tablet at around $200, it will sell like mad. No one was interested in the TouchPad until the fire sale. The original price was too high".
Reader smarterthanuare: "The only reason to buy an iPad over the Nexus 7 is if you really need the higher resolution display. Aside from the display the Nexus 7 is superior to the iPad in every area. Android 4.1 is significantly faster than iOS 5 or the most recent beta version of iOS 6. Google's voice command feature in Android 4.1 is smarter than Siri too".
Alvin Harwick leans Fagioli's way. "I for one am considering the Nexus 7 as a replacement to my original iPad...quite frankly the thought of spending another $600 for another iPad model makes my head spin. I just don't see enough changes between models to warrant a purchase".
So the question remains: would you buy Nexus 7 and sell your iPad -- or sell the Apple tablet first? When responding please tell which iPad you have.