Does Chrome have a future on iOS?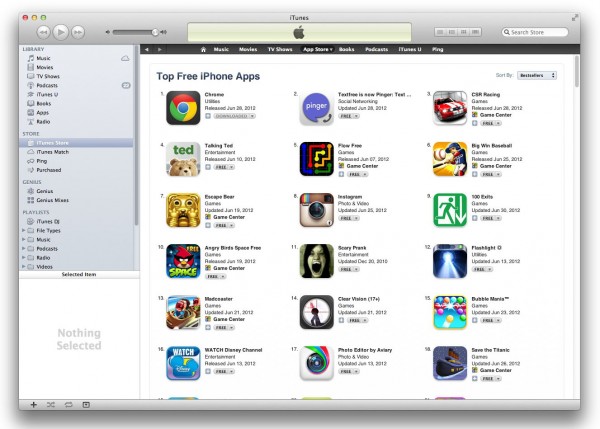 There's a certain, sweet justice: While Apple stomps all over Android licensees in the courts after falling out with Google, Chrome tops both iPad and iPhone App Stores. Last week, Google's browser invaded iOS -- eh, was granted admittance to the App Store -- and is ready to put Safari out to pasture.
On the other hand, the competition isn't exactly stellar. Chrome beats out Pinger, CSR Racing and Talking Ted on iPhone. (What? No cat video app?) But there is now a choice among browsers. On the desktop, Chrome retained its No. 1 usage share position in June, according to StatCounter. The question now: How long before Chrome deeply encroaches on Safari on iOS?
Safari's iOS success is all about incumbency, locked default settings and lack of choice. You will use Apple's browser if there's not much else to choose from on iOS. Judging from the desktop, where Safari usage share is 7 percent to Chrome's 32.76 percent, most people would choose something else. Android browser leads on mobile devices, according to StatCounter, with 21.97 percent usage share. That compares to third-ranked iPhone Safari's 20.99 percent. Don't be surprised if Google's overall browser usage share rises in July.
Last week, I asked: "Will iOS users dump Safari for Chrome?" Sample size to our poll is smaller than I'd like, but nevertheless relevant: 48.15 percent of you will switch to Chrome, while another 15.08 percent are thinking about it. Those are huge numbers that offer perspective why Chrome is top downloaded app on iOS.
Chrome establishes an important beachhead, particularly for connected cloud services. Actually, Chrome, Gmail, Google Drive and Google+ anchor the search and information giant's alternative to iCloud. I can't help wonder why Apple would finally let Google have such footing on iOS. Overconfidence? Customer demand? I ask since Apple is renown for keeping App Store fairly locked down, particularly products that compete with its own. The answer is simpler and shows Apple exacting the kind of favoritism to its own developers that got Microsoft in heap loads of trouble with trustbusters a computing generation ago.
To gain admittance to iOS, Google had to use Apple's slower UIWebView rendering engine (both browsers are based on WebKit), while, like other developers, being barred from using the Nitro JavaScript engine available in Mobile Safari. That raises question: How far can Chrome really go against Mobile Safari, if Apple's browser has imposed speed and default settings advantages.
BetaNews reader capncoad "downloaded Chrome for my recent gen iPad last night. Renders pages a bit too slow for my liking. Nitro isn't just a small difference, it's night and day for me. It's too bad because it's not Google's fault and they should be allowed to use their V8".
"This puts it on uneven footing because of potential speed issues", rmo comments. "There is the separate issue that you can't change default browser or email apps on iOS, which also puts it on uneven footing by ensuring that links and whatnot will automatically open in Safari".
Reader capncoad is still the kind of user Google should want, at minimum: "Ultimately I cannot use [Chrome] as my main browser but will have it for syncing purposes when needed".
By contrast, rmo achieves Apple's objectives for limiting competitors' functionality: "Since I don't have anything to sync with Google and the browsers essentially render the same, I see no reason to switch. This is further complicated by the inability to set defaults, so everything I don't open directly from Chrome would open in Safari anyway".
Well, maybe justice isn't so sweet after all.