If this were 2016, you'd be reading this story on a tablet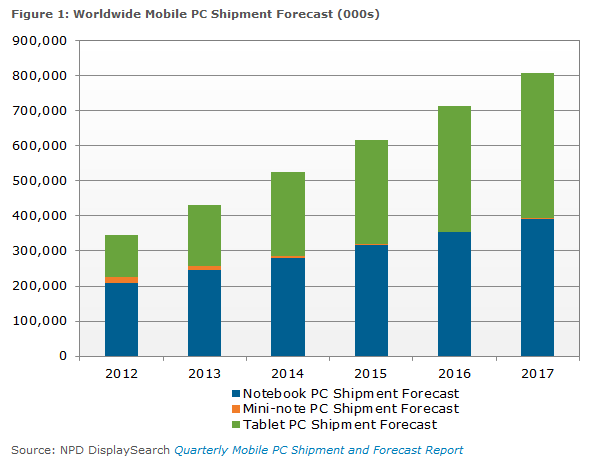 Tablets are the hottest computing devices right now, and thanks to the likes of Google Nexus 7  and Microsoft Surface, they're only going to gain in popularity. In fact, the latest NPD DisplaySearch Quarterly Mobile PC Shipment and Forecast Report has them on target to surpass notebook shipments by 2016. Not too shabby for a platform that didn't even really exist before the original iPad launched in April 2010.
The total number of mobile PC shipments for 2012 is estimated at 347 million units, with tablets accounting for around 121 million of those. Notebooks are forecast at 208 million units, with mini-note PCs (netbooks) making up the remaining 18 million shipments.
NPD DisplaySearch sees total mobile PC shipments rising to an impressive 809 million units by 2017, with tablets accounting for 416 million units of that, compared to notebook shipments which are expected to grow to 393 million.
Most of the growth for tablet devices is likely to come from adoption in mature markets (including North America, Japan and Western Europe), because, as Richard Shim, senior analyst at NPD DisplaySearch notes, this is where new entrants are tending to launch their initial products. "Services and infrastructure needed to create compelling new usage models are often better established in mature markets," he also observes. These mature markets are expected to account for 66% of shipments in 2012, and remain steady at around 60% for the next five years.
NPD DisplaySearch's prediction is based on the natural assumption that tablet PCs are going to evolve and become more powerful, narrowing the performance gap between them and traditional mobile computing devices, while remaining as convenient and affordable as they currently are.
The figures are certainly encouraging, and show, despite Apple's present dominance, that there's still plenty of market share for Google, Microsoft, and others to compete for -- which is good news for them, and even better news for consumers like us.