Samsung debuts Galaxy Note 10.1 for stylus users craving a full-sized tablet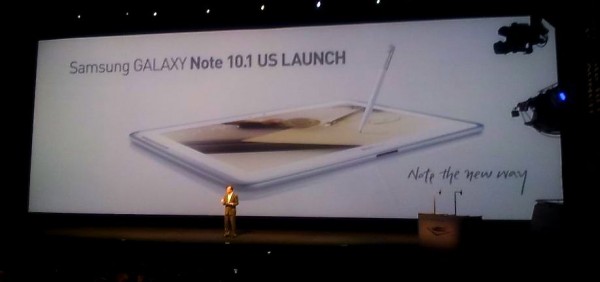 Samsung on Wednesday officially unveiled its new Galaxy Note 10.1 to the United States. The device is an update to Samsung's part-phone-part-tablet Galaxy Note which debuted last year and was met with equal amounts of fascination and derision.
Unlike its 5.29 inch predecessor, this device will not be confused with a phone in any light because it has a full 10.1 inch (1280 x 780) LCD display like the Galaxy Tab family. It's equipped with a 1.4 GHz quad-core Exynos processor, 2GB of RAM, Android 4.0.4 (ICS), and has a 5 megapixel rear camera and 1.9 megapixel forward-facing camera. It comes in 16GB and 32GB variants and has a microSD slot for additional storage.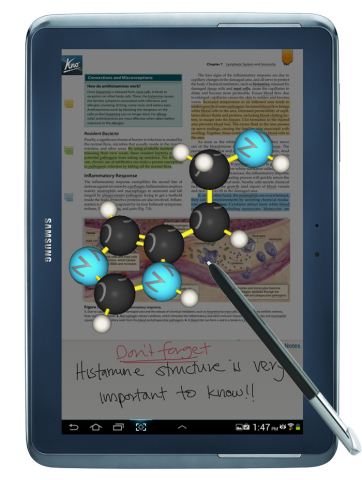 It is considered a "Note" and not a "Tab" primarily because it focuses on providing support for Samsung's S-Pen peripheral and related pen-enhanced software like S Memo, S Note, and My Story as well as third-party apps like Photoshop Touch and Kno Interactive Textbooks. Further, Samsung's build of Ice Cream Sandwich features a few major tweaks like split-screen multitasking, and pen-based app launching that shape the experience.
Though there are many Android-based tablets available today, there are comparatively few with advanced stylus capabilities, and even fewer running new builds of Android. HTC's Scribe digital stylus worked with both the 7" Flyer and 10" Jetstream tablets, and Lenovo's ThinkPad Android tablet also featured its own pen and apps; and with the exception of the original Galaxy Note, that's the extent of it. There are some outliers, like EFUN's NextBook Next5 tablet that incorporates the Apen digitizer and the Korea-only LG Optimus Vu, but it's still a very small playing field.
A Wi-Fi only device, the suggested retail price for the Galaxy Note 10.1 is $499 for the 16GB version, and $549 for the 32GB version and it will go up for sale on Thursday.