Apple vs Samsung: In a good patent war no one wins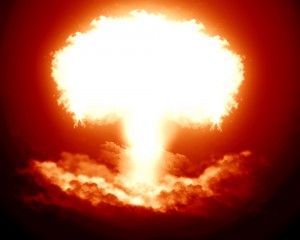 In the 1983 classic movie WarGames, Matthew Broderick hacks into a top secret super-computer and comes close to initiating World War III. The global catastrophe is only avoided when the computer, "Joshua", starts playing Tic Tac Toe against itself and discovers it can't win, coming to the inevitable conclusion that "the only winning move is not to play."
It's a film that maybe Apple and Samsung should sit down and watch together. While the jury is still out in their current big Californian patent case, in South Korea, Samsung's home and just one of several countries where the global lawsuit is being fought, the court has just ruled simultaneously that both firms infringed each other's patents. And, as a result, ordered them to both pay damages, and imposed sales bans on all related products (none of which are the latest models).
The court ruled that Apple had infringed two patents owned by Samsung, ordered it to pay 40 million won ($35,264) in damages to its rival, and imposed a limited sales ban on four products including the iPhone 4 and iPad 2. It also ruled that Samsung had infringed one of Apple's patents, ordered it to pay Apple 25m won ($22,040) in damages, and imposed a limited ban on 10 products, including the Galaxy SII and Galaxy Tab.
The way the court system works in South Korea is different from the way it works in the United States. The case is heard in front of a three-judge panel and any appeal, lodged by Apple or Samsung, will result in a complete rehearing of the dispute before an appellate court. If that fails to bring the hearing to a satisfactory conclusion, the case can then be taken to the Supreme Court.
While the damages awarded are clearly small, and nothing compared to the billions being sought in the Californian case, it shows that when two similarly matched companies go head to head, there's unlikely to be a clear winner. Or, in military terms, it's probably going to lead to a Mutually Assured Destruction (MAD).
While what's happened in South Korea doesn't really have a massive bearing in the Californian hearing, it is worth mentioning the judges -- based in Samsung's home country, remember --  did not feel that Samsung had copied the iPhone with its Galaxy S, one of Apple's major case points. Reuters quotes a judge as saying: "There are lots of external design similarities between the iPhone and Galaxy S, such as rounded corners and large screens, but these similarities had been documented in previous products. Given that it's very limited to make big design changes in touchscreen based mobile products in general, and the defendant [Samsung] differentiated its products with three buttons in the front and adopted different designs in camera and side, the two products have a different look."
It will be interesting to see if the Californian jury -- based in Apple's home country and state -- come to the same conclusion.
Photo Credit: argus/Shutterstock