Samsung unveils Windows Phone 8 ATIV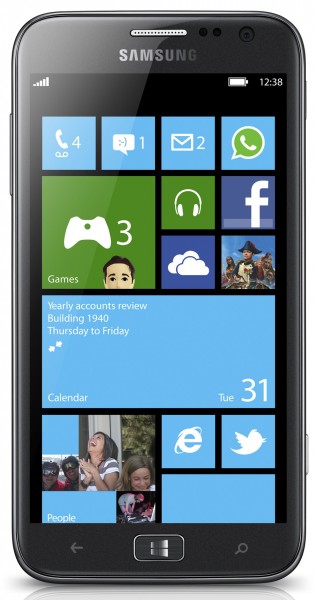 Samsung made a string of new product announcements at IFA in Berlin, including of course the much anticipated Galaxy Note II. But just when we thought we knew everything the South Korean company had in store for us, it surprised the gathered watchers by unveiling the ATIV S, the first handset to run Microsoft's new mobile operating system.
The ATIV (VITA - "Life" in Latin - backwards) is the first in a whole range of Samsung products based on Microsoft's software, and boasts a 1.5 GHz dual-core processor and 4.8in (121.9mm) HD Super AMOLED display. It also has an 8-megapixel rear-facing camera and 1.9MP-megapixel front-facing camera, making it competitive, but not ground-breaking. The smartphone will be for sale at some point between October and November, in time for Christmas.
What's interesting about the announcement: Samsung, not Nokia, is the first company to introduce a range of Windows Phone 8 devices. The Finnish mobile firm -- long seen as Microsoft's favored hardware developer -- is set to announce its Lumia line of Windows Phone 8 smartphones in New York on September 5. That Samsung beat it to the punch could be taken as a sign that Microsoft isn't prepared to play favorites in its quest to be taken seriously in the mobile market, but could equally mean that Nokia has something big in store, and Samsung needed to get in quick to avoid its first slew of devices looking weedy by comparison. We'll find out soon enough.
While the timing of Samsung's commitment to the Microsoft platform might raise a few eyebrows, the fact it's moving beyond Android won't. Offering devices on two different operating systems is a smart move for the South Korean firm, and gives it options for the future.
"Samsung is delighted to introduce a wide portfolio of Windows 8 and Windows Phone 8-powered devices," Seong Woo Nam, executive vice president of IT Solutions Business at Samsung Electronics, says. "With our leadership in design and technology and Microsoft's leadership in operating systems, together we are able to provide customers with a full range of ATIV devices for cross-category convergence."
"And that hopefully won't get us sued," he might have added mentally afterwards.