Android and iOS shut out Windows Phone, BlackBerry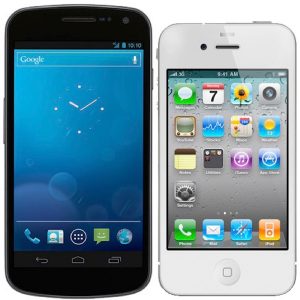 For the three months ending in July, Android and iOS combined US smartphone subscriber share reached 85.6 percent, according to comScore. That's 3.4 percentage points higher than April. Meanwhile, Research in Motion and Microsoft mobile platforms receded to 9.5 percent and 3.6 percent share from 11.6 percent and 4 percent, respectively. While comScore combines defunct Windows Mobile and Windows Phone, we henceforth refer to both using the latter name.
The smartphone market clearly consolidates around Android and iOS, leaving even less share for Windows Phone or BlackBerry. Android and iOS will soon face the new batch of Windows Phone 8 handsets, including the Nokia Lumia 920 announced today. However, as it stands now, Microsoft's mobile operating system has plenty of ground to cover to even count as a worthy adversary to the two major platforms.
comScore surveyed 30,000 US mobile subscribers 13 or older, focusing on three areas: OEM market share, smartphone market share and phone usage. Android continues its long dominance of the US smartphone market, accounting for 52.2 percent share at the end of July 2012, that is a 1.4 percentage point increase from the 50.8 percent share at the end of April; that translates into 2.75 percent growth.
Similarly, iOS gained, with smartphone subscriber share rising to 33.4 percent from the 31.4 percent during the same time period.
Separately, Android and iOS are the only two mobile operating systems that registered increases. Third-ranked BlackBerry measured an 18.1-percent share loss and no. 4 Windows Phone 10-percent loss in share. Symbian, which placed fifth, and accounted for an abysmal 0.8 percent subscriber share, down from 1.3 percent in April; that equates to a 38.46 percent share loss.
Top Phones
comScore also released manufacturer data for all phones, not just smart ones. Only Apple and HTC posted subscriber share increases over the three months. Third-ranked Apple: 16.3 percent, up from 14.4 percent in April. Fifth-place HTC: 6.4 percent, up from 6 percent.
HTC's gains are surprising, considering weak financial results in second quarter that had some pundits predicting doom. At 6.66 percent, growth is not as substantial as Apple, but HTC was the only Android and Windows Phone manufacturer to gain subscriber share in the United States.
Meanwhile, Samsung, the world's biggest phone manufacturer and US leader, had 25.6 percent subscriber share at the end of July, but lost 0.3 percentage points from the 25.9 percent subscriber share in April. However, month-on-month, that's June to July, Samsung's share was unchanged.
LG had 18.4 percent share of the US phone market at the end of July, but lost 0.8 percentage points from the 19.2 percent market share in April; that's a 4.16 percent loss. Motorola share fell to 11.2 percent from 12.5 percent during the same time period -- that's down 10.4 percent in just three months.
Looked at differently, subscriber share declined for three of the top-four Android phone makers between April and July, all while iPhone eked out share gains.