Nearly three quarters of US young adults own smartphones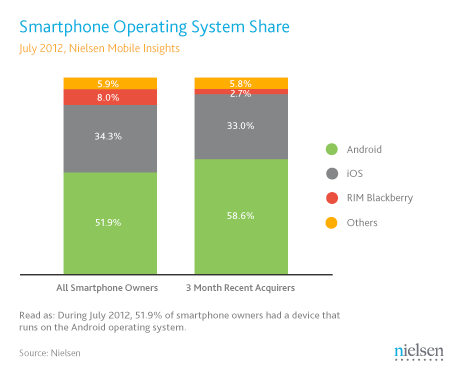 Well, Nielsen sure knows how to rain on the iPhone 5 hit parade. Just two days before the handset's presumed debut -- Hey, Apple has a big media even on September 12 -- an Android storm pours down on iPhone rumors. Nielsen today says that 74 percent of Americans between 25 and 34 own a smartphone, up from 59 percent a year earlier, and more likely Android than Apple. Quick, someone grab an umbrella! And a dry towel. Kleenex too!
Meanwhile, teens also are big smartphone owners -- 59 percent of 13 to 17 year-olds. Get this: 58 percent of all American teens have smartphones, up from 36 percent a year earlier. Now there's a group Apple, Android and Windows Phone makers should really want to get.
"Among most age groups smartphones represent the majority of US mobile subscribers, but American teens were the age group adopting smartphones the fastest", Nichole Henderson, Nielsen analyst, says. "As teens increase in their share of smartphone owners, mobile carriers and manufacturers should consider how to market to this growing group".
Can you say free phones and cheap data plans? Or none required at all? Major manufacturers already have the Facebook thing covered. What else is there? Pretty cases, cheap? More locked-downed messaging and video apps/services?
More broadly, Android continues its dominance over iPhone, although I wonder about what handset the person writing Nielsen's press release uses. The PR claims "iPhone followed closely with a share of 34 percent of smartphone owners". Oh yeah? Android share is 51.9 percent. What's close about that? More than 17 points.
Android share among new purchasers -- those people within three months -- is even higher: 58.6 percent, compared to 33 percent for iPhone.
Nielsen surveyed more than 20,000 American mobile subscribers to compile the data. Fifty-five point-five percent have smartphones, up from 41 percent a year earlier.