Existential crisis: A tablet with a keyboard dock is just a PC, right?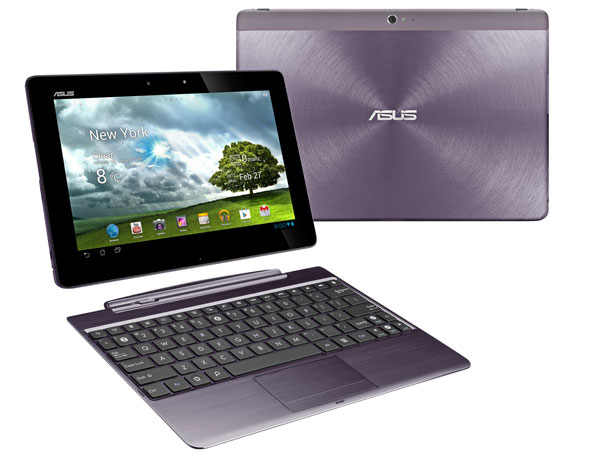 Post-PC is a lifestyle I do not strive toward and I have very good reasons for that. Yet after buying my Galaxy Nexus, I started toying with the idea that maybe a tablet is not such a bad idea after all. I will not concede to the concept of a tablet being suited for all tasks, yet I can accept it for what it is -- a toy. I have not self-medicated, nor did I happen to change overnight, but there is a logic to my madness.
I am the type of person that gets easily bored by using the same thing over and over again, be it software or hardware, and it would only be a logical step to assume that a new device could put an end to my unconscious --or most likely conscious-- quest to find the perfect anti-boredom device. My needs are rather specific, and I struggle to find the reason why I would rationally want to make the switch to an all-purpose tablet, and there isn't one.
Say goodbye to reason
I just have to waive my rational needs, and venture into the realm of tablets with nothing but my craving for personal satisfaction. I "decided" that there is one area where a tablet can shine -- writing. Others have been doing it long before my revelation and quite successfully if I may add, but with any post-anything device it's not a straight out-of-the-box experience, and it involves the purchase of a keyboard and even a mouse. And if I am truly committed to taking my laptop out of the equation for writing tasks, I'd say a monitor and mouse are not out of the question either.
Whether or not these "post-PC" people want to admit it, all they are doing is turning their tablets into PCs. That's just my personal assessment. A tablet is a tablet until you add a keyboard.
Which one?
Microsoft Surface is one of the best suited tablets for the job at hand, considering it comes with a detachable keyboard, but I do not foresee any fun to be had with it in the nearby future, unless someone finds a way to run Android or Linux on it. At this point, the mental me will try to come up with some rationale for getting one. That leaves the Apple iPad and the myriad of Android tablets from which I can cherrypick the ASUS Transformer Pad Infinity with the keyboard dock as the perfect combination of portability and performance. And, there's something else too -- I can run a custom ROM. Modding is one of my favorite technology-related activities, point being I'm running Codename Android on my Galaxy Nexus right now. Even I would admit that buying a tablet solely to write upon and mod is not ordinary.
I still have my doubts whether Android is the right choice, and I find the tablet and keyboard dock combination to be much more compelling rather than the ecosystem itself, but the ASUS Transformer Pad Infinity is the most attractive one at the moment. It's speedy enough to get a ticket, it gets decent battery life, looks the part and has a compatible keyboard dock straight from ASUS itself -- perfect combination for me. the dock has an SD card slot to expand the storage capacity (for both the 32GB/64GB tablet variants), USB 2.0 port to which I can plug-in a mouse and an extra battery for a total quoted battery life of "up to 14 hours" which is sufficient enough for light browsing, reading/sending emails, writing a few documents, and watching a couple of YouTube videos.
Admitting defeat?
I'll say this -- I can admit to its hardware and software limitations, and I am fully aware of what I can or cannot do with it, but let's not get carried away. While the ASUS Transformer Pad Infinity is one of the best tablets around, the price of the tablet itself and the keyboard dock is more than enough to cover buying a brand new laptop with decent battery life and one or two spare batteries, which is not limited by apps designed for a mobile operating system or by manufacturer software upgrades.
Now that the pressing issues (to me anyway) are out of the way, I can imagine myself to tango with a tablet in the nearby future. All it takes is a little bit of extra madness to make it happen.