Codename Android is the best ROM going [Review]


Android custom ROMs are magic. They are an improvement over what some might already call the best mobile operating system in the world right now, Android. That is no small feat when its latest iteration, 4.1 Jelly Bean, is the starting point. How can it get any better? In the world of custom Android distributions one name comes to mind -- Codename Android.
When I got my Samsung Galaxy Nexus the first thing I did was to install Android 4.1 Jelly Bean because I wanted the extra oomph brought by it. Little did I know that even the mighty Jelly Bean will not suffice for someone like me -- curious and always willing to try new things. After about two weeks I got into modding my Galaxy Nexus, finally settling for what I think is the best custom ROM for my Nexus -- Codename Android. I toyed with CyanogenMod 10 and AOKP Jelly Bean, and it wasn't until Codename Android that I finally found the right one. Yummy...
Speed and stability
Codename Android (CNA) is currently at version 3.5.0 (stable). It's packed with more features than before and it runs as expected, meaning all the good Jelly Bean parts are there. There is no point in having an unstable OS -- I have been testing it since 3.4.1 including nightly builds and it is rock solid and coming from stock Jelly Bean. With CyanogenMod 10 and AOKP Jelly Bean nightly builds, I noticed that despite having a few opened programs the free memory would always drop under 300MB; that is not a problem for CNA. The second one was "lightness" -- I did not want a custom ROM to be slower than stock, no matter what features it had. And guess what? It ticked that box too. But let's talk about what really makes it great...
The features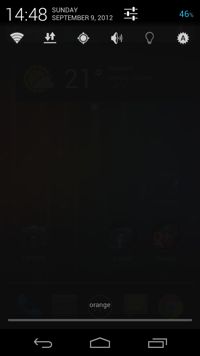 I like improvements to be found under the hood, not on the outside. With the exception of the CNA wallpaper, there isn't anything else that gives its existence away. That is, until the "control panel" is found. It is located in Settings and it opens up a myriad of configuration options of which I have found the notification window toggles to be the most useful. Stock Android comes with a "Power control" widget that only has five toggles: Wi-Fi, Bluetooth, GPS, Sync and Brightness, and it doesn't cover everything that I need. With the "Notification Power Widget" I can also get a sound toggle that lets me choose between different modes (Silent, Vibrate, Sound, Sound + Vibrate), a torch mode that basically turns the LED into a flashlight (there are apps for it, but it's more convenient), mobile data toggle that makes turning on and off data a breeze without going through the menu and such. I counted 18 toggles to play with. Comprehensive, isn't it?
Another place where I find stock Jelly Bean lacking is in the lockscreen department, but there is a fix for that, too. Besides the usual, I now added a battery status that displays the battery percentage left, weather information that shows the location, temperature including the minimum and maximum values and a pictogram. To keep track of events and even Facebook birthdays I added the calendar as well. Now it doesn't seem so empty and powerless as it did before.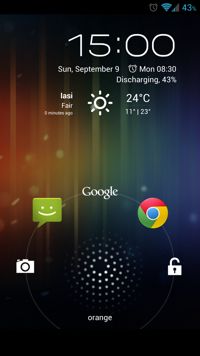 With the battery indicator I mentioned above, another nice feature is the ability to have it in the notification bar. The blue rectangle that displays the battery information can be modified to display a battery percentage, a circle with the battery percentage inside and a few other combinations. Basically having a percentage is reason enough to switch to a custom ROM for me. It should be there in the first place.
Other features include the ability to overclock the CPU, lockscreen "ring" that presets to camera, Google Now and unlock by default and many more. It also has the ability to customize the time interval for the notification LED that I appreciate since it grabs my attention faster than default values. If you want to find out more, you can visit the CNA forum page for the Galaxy Nexus.
Mod is great, Mod is good
My, how things have changed in two weeks. Far be it from me to say this type of frequent modding is fun, but experimenting with nightly builds is a good way to appreciate the finer improvements, and to get to know your phone better. No ROM is perfect, and there are always features that are excluded, but Codename Android is close to perfection in my book.
Codename Android 3.5.0 is as good as it gets. Well, at least until tomorrow or next week when there will be other builds to test.