HTC reveals One X+, new flagship smartphone, updates for other 'Ones'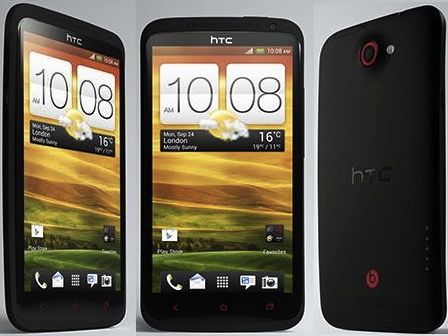 Half a year after HTC released the One X, the Taiwanese smartphone manufacturer has improved upon its original design and come up with a new flagship Android device -- the One X+.
The One X+ is the first HTC smartphone to be released with Android 4.1 Jelly Bean out of the box, and similar to its older sibling, it comes with the Sense+ user interface on top of it. The most noteworthy changes, apart from the operating system, are in the processor and battery departments with the One X+. It features a faster 1.7 GHz nVidia Tegra 3 CPU, and a larger 2,100 mAh battery, even bigger than the one in the HTC EVO 4G LTE.
The HTC One X+ also comes with the same 4.7-inch SuperLCD 2 display sporting a 1280 by 720 resolution, 64GB of internal storage, 1GB of RAM, an 8MP back-facing camera with 1080p video recording, up to 99 continuous shots, auto-focus, LED flash and BSI sensor for improved low-light pictures, 1.6MP front-facing camera with 720p video recording, Wi-Fi 802.11 a/b/g/n, Bluetooth 4.0, DLNA, GPS with Glonass support, HSPA and WCDMA support on 850, 900 and 1900/2100 MHz bands, NFC (Near Field Communication) support, microUSB 2.0, as well as the usual array of sensors and the now standard Beats Audio features built in.
Peter Chou, CEO of HTC Corporation describing the company's new flagship smartphone stated: "Our customers will have super-fast browsing, an even better camera and more immersive entertainment with Beats Audio," suggesting an improvement in the camera department as well, and according to the company today the bigger battery should equate to six more hours of talk time. What strikes as interesting is the comparison between the LTE models, with the new Tegra 3-based LTE One X+ touted as 67 percent faster than the "common" Qualcomm-based LTE One X. nVidia Tegra 3 will likely be adopted in LTE markets.
The HTC One X+ will be available in North Asia and Europe starting in October, and in South Asia it will be available starting in November. North American availability will be announced separately. No pricing has yet been announced for the One X+.
Apart from introducing a new device, the Taiwanese smartphone manufacturer also announced that the HTC One S and One X will finally receive the promised Android 4.1 Jelly Bean update starting in October.