Is Apple's app Maptastic?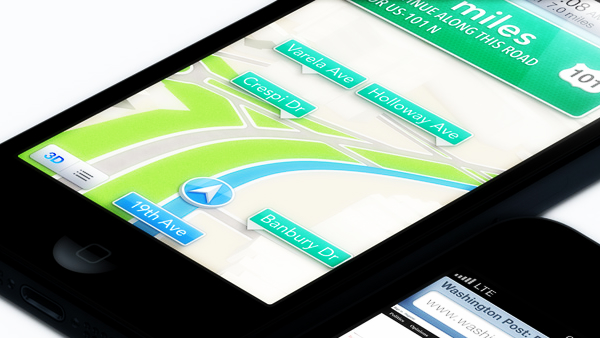 Apple has received pointed criticism for its own Maps application used in iOS 6, which eventually forced CEO Tim Cook to issue a public apology for delivering a less that competent alternative to Google Maps that until the latest mobile operating system iteration was the default app. Wanting to divert from the Mapplegate mishap, Onavo Team calls the app "Maptastic" -- and the pot will likely be stirred yet again...
Onavo Team, recognizing the faults of the built-in app, takes a different approach to Apple vs Google mapping by comparing a set of data that wasn't analyzed until now -- data consumption. According to the blog post, standard and satellite map views were used to provide a basis for comparison between the two, and the result is staggering. Which one came out on top?
Apple Maps is up to five times more efficient compared to Google Maps according to the test results.
For standard view, the in-house Apple app required 271KB of data compared to the 1.3MB that Google Maps needed to perform the same tasks; that included searching for addresses, airports, certain US cities and zooming in and out to locate specific places. The advantage is attributed to Apple's use of vector graphics; that for instance is an almost two year-old feature on Google Maps for Android.
When it comes to satellite view, Apple Maps' dominance over Google Maps decreased. The former required 428KB while the latter needed 930KB, which is almost double, to perform the same task.
You may wonder what's the upside in having the less capable of the two pre-installed in iOS 6? According to Onavo Team data, the Maps app is used by 70 percent of iPhone users and accounts for 5 percent of the mobile data used by Apple smartphones. The result is more efficient data use and a lower carrier data load, reason for it to be called "Maptastic."
What the study fails to provide is the number of iOS 6 users that prefer less accurate data services in favor of a more data-efficient maps application. The implications are far deeper than the improved efficiency brought by Apple Maps, an app which, at the time of writing this article, is reason in itself for 40 percent of the BetaNews poll respondents to avoid purchasing iPhone 5.
More data-efficient (Apple Maps) vs. more competent (Google Maps). Which one do you prefer?