Where can you get a good deal on Windows 8 PCs?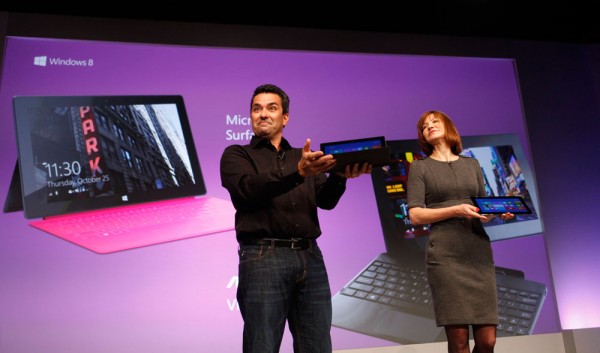 It's here! Today Windows 8 launches around the globe, and Surface tablets, too. For years, I've said nobody partners like Microsoft, and the company is front and center promoting retailers and PC manufacturers. That's good for you, if you waited for the OS to take advantage of some of the most interesting new computer designs to hit the market in years. Not surprisingly, the company has posted a list of some of the deals available starting today.
Windows 8 is Microsoft's most important product launch ever. It's a defining operating system, as the company seeks to maintain computing relevance during the shift from the PC era to cloud-connected devices. "What you have seen and heard should leave no doubt that Windows 8 shatters perceptions of what a PC now really is, Microsoft CEO Steve Ballmer boasts". "We truly re-imagined Windows, and kicked off a new era for Microsoft, and a new era for our customers". He spoke yesterday during the pre-launch event in New York City.
Staples:

Tablet Trade-in and Trade Up Offer -- Consumers can trade in a working old tablet, buy a new Windows 8 tablet and receive up to a $250 Visa Giftcard. Available In-Store and Online 10/26/12 -- 12/24/12. Customers must register their tablet here within 14 days of purchasing their new Windows 8 tablet at Staples. Customers will receive a prepaid label in the mail to ship back the old tablet.
Buy a new Windows 8 device and get Free PC Start-Up, Free Training and Free Support.
Buy a new Windows 8 device regularly $699 or more, and receive Free PC Start-Up, Free Training and Free Support and Free Data Transfer.
For more information the Windows 8 offers, click here.

Best Buy:

PC Home Makeover -- includes Samsung Series 5 laptop, Samsung Series 5 Touch Screen All-In-One, Samsung Series 5 Touch Screen Ultrabook, 1 year Geek Squad Support, 1 year Kaspersky Antivirus and PC Data Transfer for $1,999. Available Online and in-store beginning 10/26, while supplies last.
Buy 2 Samsung Touch LTs and 1 Samsung AIO, save $600 ($2,599 down to $1,999).
For more information on the Windows 8 offers, click here.

Intel:

Trade In/Trade Up -- Bring in a working laptop (any PC as long as it can power on) and get at least $100 towards a new Intel-Inspired Ultrabook.
Microsoft maintains a list of global offers, for 13 countries as I write, that will expand over time.
The company maintains retail stores, and starting today, they will be open in 27 states and three Canadian provinces. Many of the locations are what Microsoft calls "holiday stores", which are more oversized kiosks than shops but retail presence nevertheless. I called a couple stores asking about deals, but they, get this, don't have any Windows PCs for sale. Just pre-order. But Microsoft Store will sell your Surface.
"Buy a new computer, it lights up with your life", Ballmer cajoles. "You'll immediately see all of your friends from Facebook, Twitter, Gmail, LinkedIn, Outlook.com, co-workers who are on Outlook with you at work, all of your photos form Flickr, SkyDrive, Facebook will just appear. All of your documents will be available to you from SkyDrive, and all of your Xbox music, video, and games will be there. It will all be there, everything and everybody that you really care about".
He aptly sums up Microsoft's primary objectives for Windows 8, as a cloud-connected OS offering access to your stuff anytime, anywhere and on anything. Does Microsoft succeed? You tell us.