Apple starts selling iPad mini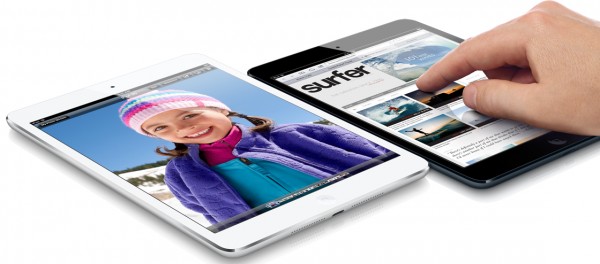 Today in more than 30 countries, new iPads -- fourth-generaton 9.7-inch and new mini 7.9-inch -- are available for purchase. In-store sales, direct from Apple and third-party retailers follow a week of pre-orders. The Cupertino, Calif.-based company unveiled both tablets on October 23.
iPad 4 is largely unchanged from its predecessor; the biggest difference being the new A6X processor, which Apple claims doubles performance. The mini is a fresh design and smaller physical size that lowers the entry-level price to $329. The company chose to preserve the larger tablet's user experience, including 5MP rear-facing camera, on its smaller sibling. Big difference, other than physical size, is dramatic lowering of screen resolution -- 1024 x 768 on the mini compared to 2048 x 1536 resolution on iPad 4.
Both tablets are immediately available in: Australia, Austria, Belgium, Bulgaria, Canada, Czech Republic, Denmark, Finland, France, Germany, Hong Kong, Hungary, Iceland, Ireland, Italy, Japan, Korea, Liechtenstein, Luxembourg, Netherlands, New Zealand, Norway, Poland, Portugal, Puerto Rico, Romania, Slovakia, Slovenia, Singapore, Spain, Sweden, Switzerland, United Kingdom and United States.
iPad mini: 7.9-inch back-lit IPS display (1024 x 768 resolution, 163 pixels per inch); A5 dual-core processor; 1GB RAM; 16GB, 32GB or 64GB storage; 5-megapixel rear-facing and 1.2MP front-facing cameras; Bluetooth; WiFi A/N; HSPA+/LTE (on three models); accelerometer; GPS; gyroscope; microphone; battery unknown; and iOS 6. Measures 200 x 134.7 x .28mm and weighs 308 grams.
iPad mini 16GB WiFi: $329
iPad mini 32GB WiFi: $429
iPad mini 16GB WiFi/LTE: $459
iPad mini 64GB WiFi: $529
iPad mini 32GB WiFi/LTE: $559
iPad mini 64GB WiFi/LTE: $659
iPad 4: 9.7-inch LED display, 2048 x 1536 resolution, 264 ppi; A6X dual-core processor; 1GB RAM; 16GB, 32GB or 64GB storage (depending on the model); 5MP front- and 1.2MP rear-facing cameras; GPS; Bluetooth; Wi-Fi A/N; HSPA+/LTE (on three models); accelerometer; ambient light sensor; compass; gyroscope; 11,666 mAh battery (based on previous model); iOS 6. Measures 241.2 x 185.7 X 9.4 mm and weighs 652 grams.
iPad 4 16GB WiFi: $499
iPad 4 32GB WiFi: $599
iPad 4 16GB WiFi/LTE: $629
iPad 4 64GB WiFi: $699
iPad 4 32GB WiFi/LTE: $729
iPad 4 64GB WiFi/LTE: $829
All iPad 4 models are immediately available, but Apple only sells WiFi minis today. The three models with LTE radios are expected in a few weeks. WiFi models are backordered online, listed "available to ship within 2 weeks". LTE models can be pre-ordered. Best way to get iPad mini now is a retail store. The older iPad 2 remains available at $399, which is the lowest price for a new Apple tablet with 9.7-inch display. All iPads, regardless of size or price, are available in black or white.
The question: Who wants them, particularly iPad mini? While lowering the entry price, the mini costs considerably more than other 7.x-class tablets, such as Amazon Kindle Fire HD, which start at $199 (7-inch) or $299 (8.9-inch). Google starts selling new Nexus 7 models on November 13 -- 32GB for $249 and 32GB with HSPA+ cellular for $299.
What's missing reveals something about early interest. Apple did not issue a press release touting pre-order sales, as it did last month for iPhone 5. Boasting's absence raises questions about early sales. Among nearly 1,000 respondents to a BetaNews poll, 79.39 percent say they won't buy iPad mini. Only 9.62 percent pre-ordered, while another 7.08 percent plan to buy within three months. In stark contrast, responding to a February poll, when the tablet was rumored but no price was available, 55.78 percent of respondents said they would buy the smaller iPad. What a difference price makes.
Apple needs sales of either, or better both, tablets to be brisk this holiday. During third quarter, iOS share of the tablet market fell to 56.7 percent from 64.5 percent a year earlier, according to Strategy Analytics. Meanwhile, Android surged to 41.3 percent from 29.2 percent.
"Apple shipped a disappointing 14 million iPads worldwide", Peter King, Strategy Analytics director, says. That number fell as much as 4 million below analyst projections.