Samsung ATIV Smart PC and Galaxy Tab 2 10.1 arrive at AT&T November 9th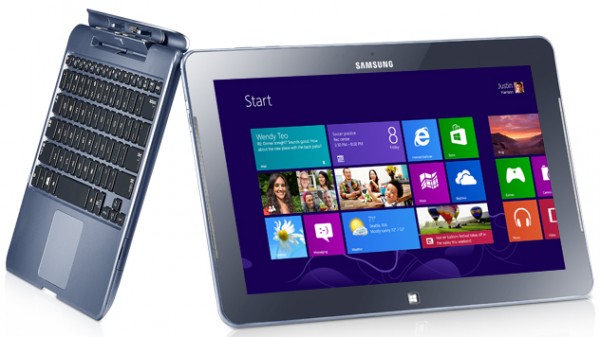 AT&T has already officially told us of two new Windows Phone 8 handsets coming to their service with the Nokia Lumia 820 and 920, both of which will soon launch. Now the company has unveiled two tablets as well -- one running the new Microsoft operating system and the other Android. The company seems to be staying on the Microsoft bandwagon by adopting Windows 8 tablets and perhaps they see an opportunity to hitch their wagon to a growing platform. The mobile carrier today, not only announced it will launch the new Samsung ATIV Smart PC, but also hedged its bets with an Android tablet in the form of the Samsung Galaxy Tab 2 10.1.
Samsung has been in the news a lot recently with the Apple apology and news of their sales numbers for the Galaxy Note 2. With all of the public attention Samsung has received it seems the devices could be hits for AT&T. After all, the Apple lawsuits really provided some PR for their rival and, as the saying goes, "there is no such thing as bad publicity". Then again, price is everything and AT&T isn't doing their customers any favors here. Here are some specs and the prices AT&T will be offering, as well as their release date.
Samsung ATIV PC
The tablet will contain an 11.6-inch HD PLS display, 64GB of internal storage memory, Intel Atom processor, and a micro SD card slot. It also comes with Windows 8, which will be upgradable to Windows 8 Pro. "We are excited to offer the Samsung ATIV smart PC in stores nationwide ahead of the holiday shopping season," Chris Penrose, a senior vice president at AT&T, says. The tablet will be available on November 9th for a rather hefty $799. If your wallet doesn't feel light enough after that then there will also be accessories available, such as a stand dock for $49 and VGA adapter for $40.
Samsung Galaxy Tab 2 10.1
The Galaxy Tab line from Samsung, which recently escaped a lawsuit in British courts, is the company's Android offering. As you can probably gather from the name, it packs a 10.1 inch screen, but also comes with some premium entertainment options like Media Hub, Smart Remote and AllShare Play. It also features a 7000 mAh battery, which should be powerful enough to last most, if not all, of the day. The Tab 2 10.1 also has a dual core processor, Android 4.0, and front and rear cameras. This will also be available beginning November 9th and will set you back $499.
The announcement of the two devices came this morning, along with some details from the company, including the most important information to most users -- price and availability. However, they may be late to the game given that competitor T-Mobile has already released the Galaxy Tab 10.1 for a much better price. Users can also purchase these devices unsubsidized for a bit more, but avoid the long term costs of a 2 year commitment to a cellular carrier. If you are dead-set on going this route then here is what you can expect from these offerings.
Both tablets will run on their 4G network and be available at company retail stores around the country, as well as at their online store. Before you lay down your hard earned money on any of this though, you may want to do a bit of research into that network, which many think is inferior to that of rival Verizon in both speed and breadth of coverage. You may also want to look at buying a tablet outright, including the much more wallet-friendly Nexus 7 or Nexus 10. With that said, it is, of course, a personal decision.