RISC OS comes to Raspberry Pi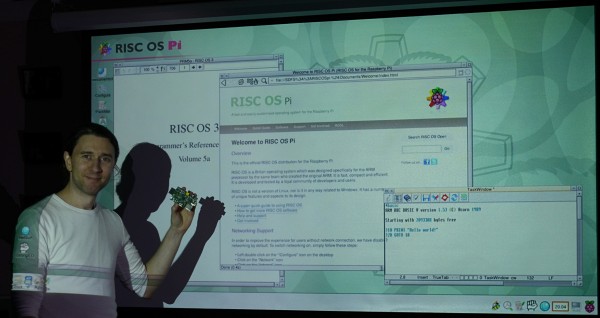 Raspberry Pi is, in many ways, a throwback to the past and not just in terms of performance. The uncased single-board ARM GNU/Linux computer was originally conceived as a way to get students programming again, like they did back in the 1980s and 90s, and now there's even a 25 year-old OS available for it.
RISC OS is an operating system you'll possibly be familiar with if you're of a certain age, and come from the United Kingdom (like me). A descendant of the OS used in the BBC Micro, it was created by Acorn Computers for the First Reduced Instruction Set Computing (RISC) ARM chips, and made its debut in Acorn's 1987 Archimedes microcomputer.
The desktop OS is small (under 6MB), fast, and has a working GUI, so is easy to understand and master, making it the perfect fit for the Pi. If you're familiar with RISC OS -- it has evolved a fair amount over a quarter-century, but it's still essentially the same -- you'll be able to load some old programs and even code your own in BBC Basic (if you can remember how).
RISC OS has no USB Wi-Fi support, so you'll need to use an Ethernet-Wi-Fi adaptor if you want to connect to a network wirelessly, although the Ethernet port is switched off by default in order to speed up boot times, so you'll need to enable that first. A tutorial on the desktop will explain how.
You can download the OS or purchase a copy on an SD card. There's also an advanced version called NutPi, that comes with some useful applications. If you're completely new to the OS, there's a PDF guide to teach you the basics.
Photo Credit: Raspberry Pi Foundation/RISC OS Open Ltd