Tumblr goes native iOS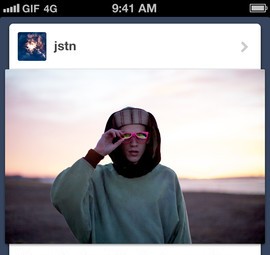 Going native on iOS has its perks as Facebook recently demonstrated with a faster app for iOS devices. Popular social networking and blogging platform Tumblr released an updated app today for iPhone and iPad that sports native code.
Available for iOS 5 and above, Tumblr 3.2 touts major improvements under the hood that are attributed to going "completely native." The latest version delivers an overhauled Dashboard that now comes with a more responsive interface, bigger photos and speed improvements when loading posts. There are also new notification previews that sport a different look and allow users to see liked, reblogged and replied posts. The revised blog screens deliver descriptions and blog portraits, and the app now makes better use of gestures.
A long tap on links, photos, post headers and tags will display more options and now, from any screen, users can swipe right in order to go back to the previous view. The app is compatible with the larger display and resolution of the iPhone 5, unlike Xbox SmartGlass 2.0, and is available for download from the iTunes App Store for both iPad and iPhone.