Bits of Android 4.2 Jelly Bean are awesome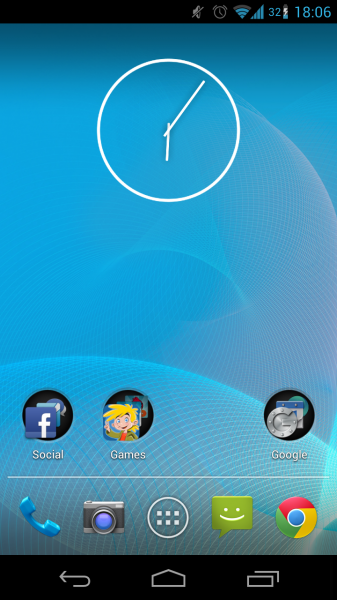 Earlier this week I wrote about the Android 4.2 Transformation Pack for the Galaxy Nexus and it got me wondering. As a CyanogenMod 10 user, I get access to better Camera or Clock apps compared to stock Jelly Bean, so what could I possibly gain by installing some of the Nexus 4 apps or wallpapers?
Curiosity got the best of me, and I installed the new Camera, Clock, Keyboard and Gmail apps, and for the sake of changing looks I got the new wallpapers as well. This is not Android 4.2, rather a taste of what will come, but so far I like the new bits. There is an added touch of elegance in the new apps, which should give the new operating system a more polished look and feel.
With the new Clock app Google implemented a countdown timer and stopwatch, and there's a new better-looking widget as well. For instance in order to add a nine-minute countdown I just press the numeral followed by two zeros. It's pretty neat without any menu, dropdown or otherwise.
Multiple timezones can be followed through major global cities, and, for instance, the time from the stopwatch can be shared on social networks. Sometimes being first is not important, but I sense people will want to measure up on social networks.
The new keyboard has a similar functionality to Swype. Words can still be typed, but can just as well be "triggered" by gliding the finger across the screen. It's fairly easy to use, though I would say that SwiftKey is still better at predicting words and Swype more adapted with hand gestures.
I am a Gmail user, and do get plenty of emails each day. Some are important and some I could care less about, but I archive all anyway. With the new app instead of pressing a button you can swipe left or right to archive or delete email depending on the location. It's not a groundbreaking feature, but it's pleasant and nice to have especially on the go.
And I've saved the best for last -- the new Camera app. It's not groundbreaking in terms of functionality, but rather different. Tapping and holding on the screen triggers the camera menu, which allows you to alter settings, but to also quickly switch to the front facing camera and back. The latter is better implemented in Android 4.2 and easier to access.
The major feature is still the new 360-degree panorama shooting, which is simply awesome. Yes, I've said awesome. The truth is that it brings something unique and fun in the camera department. Shooting a 360-degree panorama is quite easy though it will take some time to master and get right. There is no limit on the number of joined pictures, and could just as well be created from ten as from twenty. The result wasn't spectacular on my first try and the end-image looked cropped, but with less shaky hands it has great potential to make iPhone 5 users feel green with envy.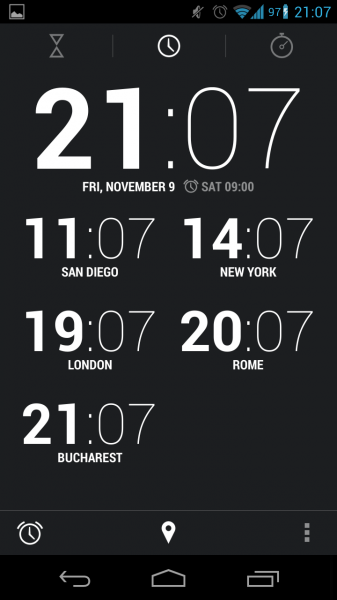 Like I've said before this is just a taste of what's to come, but it can already be experienced before Android 4.2 is released. I've installed the new apps on CyanogenMod 10 with a bit of work deleting duplicates, but it's worth it. If Android 4.2 is as good as these new apps feel then by all means count me in for a Google Nexus 4!