If you thought $249 was too much to pay for Chromebook, how's $199?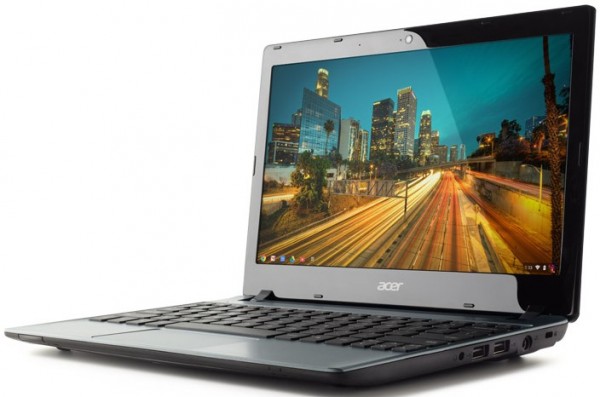 Just when everyone (including me) thought Google and Samsung offered the killer price on Chromebook, along comes Acer. Starting tomorrow, from Google Play and major retailers, Acer's newest Chromebook goes on sale for a cool $199. That's right, 50 bucks less than Samsung's no-brainer "I got to buy it" bargain-basement model. Why not just give it away? In the esteemed words of Crazy Eddie: These "prices are insane!"
But low cost brings hidden costs, and the Acer C7 Chromebook is full of compromise for $50 dollars savings. For starters, it's a heftier beast, both in size and weight, coming in about a half pound heavier (1.4 kilograms). The newest Samsung comes with super-fast ARM Cortex A15 processor, while the Acer is Intel Celeron. In a big departure from all previous Chromebooks, the C7 swaps SSD for a standard hard drive. That means more capacity (320GB), but more moving parts and presumably greater performance overhead. I got to ask: Who needs all that storage on a device primarily running Web apps? The clincher: 3.5 hours battery life, compared to the ARM model's 6.5 hours.
Other than running Chrome OS, I wonder how the C7 qualifies as a Chromebook, given how much it departs from earlier designs and in process gives up so many of the best benefits, with performance and battery life being among them. "The Acer Chromebook is fast -- boots up in 18 seconds", Sundar Pichai, Google senior veep for Chrome and Apps, says. But that just reveals how slow is the computer. The newest Samsungs boot up in about 10 seconds. Surely, slower startup says something about expected performance?
The C7's biggest benefit is dirt cheap pricing. Hell, even my cash-strapped college Freshman daughter could scrape together 200 bucks. Pricing is a compelling feature. Three weeks ago I asked: "Will you buy $249 Google Chromebook?" Among the 1,918 respondents so far, 37.32 percent either pre-ordered or plan to purchase within 3 months. That's a high number considering how different the Chromebook cloud computing concept is from more traditional PCs. Price is top reason, based on comments.
So how does the beast actually compare to the $249 model so many people (me among them) cooed about just a couple of weeks ago?
$199 Acer Chromebook: 1.1GHz Intel Celeron 847 dual-core processor; 11.6-inch glossy display, 1366 x 768 resolution, 200-nit brightness; 2GB RAM; 320GB hard drive; webcam; three USB 2.0 ports; WiFi A/N; HDMI port; VGA port; Chrome OS 23. Weighs 3 pounds (1.1 kg) and is an inch thick.
$249 Samsung Chromebook: 1.7GHz Samsung Exynos 5250 dual-core processor (ARM); 11.6-inch matte display, 1366 x 768 resolution, 200-nit brightness; 2GB RAM; 16GB SSD; SD-card slot; Webcam; USB 2.0 and 3.0 ports (one each); WiFi A/N; Bluetooth 3.0 compatible (dongle required); HDMI port; Chrome OS 23. Weighs 2.5 pounds (1.1 kg) and is 0.8 inches thick.
Screen sizes and resolutions are comparable. The C7 has glossy display, which is great for colors but bad for use outdoors in sunlight. Screen brightness is 200-nit on both, which I find to be a bit too dim. The two portables feature similar chicklet-style keyboard, which is exceptional on all Samsung Chromebooks.
Like the $249 portable, the new, lower-priced one packs 2GB of RAM. It's not enough. Samsung's original Series 5 Chromebook and the newer ARM model demonstrate similar performance problems that I attribute to insufficient RAM. By comparison, the Series 5 550 is an excellent performer at 4GB. Remember, primary user interface is a web browser, which caches lots of data. More memory makes a big difference in the overall experience.
Acer makes some big sacrifices to shave $50 from the price. But if $249 is no-brainer pricing, $199 is autonomic response: pull out the credit card and buy. The price is low enough for an extra computer in the home, if nowhere else. You can't expect a Porsche for the price of a Yugo. The C7 is an extra PC purchased for price not for performance. But will most people be happy with it, or even the Samsung ARM model? I wonder.