You can thank Microsoft for iPhone's retreat before the Android Army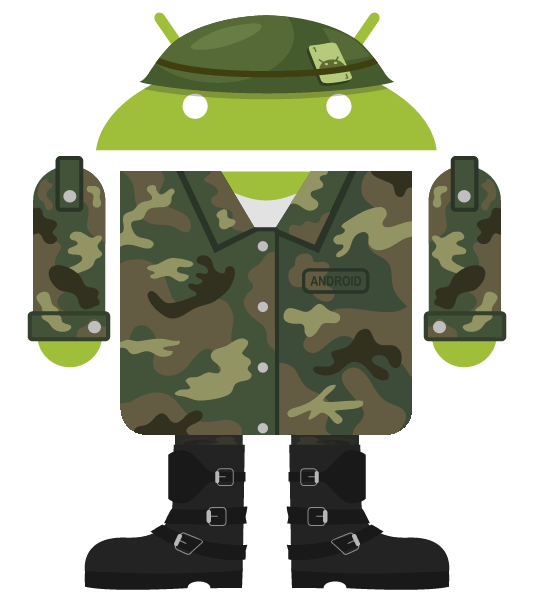 Two months ago, I declared Android winner in the smartphone wars. The victory is now broader, in a total route of all competing operating systems and in process driving down iOS market share. That's right, after more than five years of near-constant growth, Apple's platform retreats before the Android Army.
Android's global smartphone OS share rose a stunning 19.9 points year over year in third quarter, according to Gartner. That's to 72.4 percent, up from 52.5 percent. Meanwhile iOS fell to 13.9 percent from 15 percent.
Unlike most other analysts, Gartner measures actual sales to end users, not shipments into the channel. So there is no room for Apple apologists to argue about some disparity between the phone maker's stated sales and those from others. Like competitors, Apple calls shipments sales. The company reported 26.9 million in Q3. Gartner says actual sales were 23.55 million.
The difference between sales and shipments isn't surprising. "We saw inventory built up into the channel as Apple prepared for the coming holiday season, global expansions and the launch into China in the fourth quarter of 2012", Anshul Gupta, Gartner principal research analyst, says.
By comparison, Android sales more than doubled year over year -- to 122.48 million from 60.49 million. BlackBerry OS continued to bleed share, falling to 5.3 percent from 11 percent. Windows Phone/Mobile rose to 2.4 percent; like Symbian, behind Samsung's Bada.
Android's Ascension
The question: What about fourth quarter? Gartner attributes some of Apple's share loss to users holding back purchases for iPhone 5. But Apple's Q3 shipments actually were higher than Wall Street analyst consensus, raising doubts about Gartner's prediction. Meaning: Other than Apple executive statements, there is nothing overt in the numbers to suggest a major slowdown in third-quarter sales that would dramatically boost those in Q4.
Then there is the quarter-on-quarter trend. Android made dramatic gains all year, while iOS declined. Android share is up from 56.1 percent in Q1 and 64.1 percent in second quarter. Respectively, iOS is down from 22.9 percent and 18.8 percent. Trend applies to unit sales. Android sales rose from 81.07 million units in first quarter and 98.5 million in Q2. Respectively, iOS fell from 33.1 million and 28.9 million. There is an undeniable trend for three straight quarters.
There are many reasons for Android's ascension, but in my analysis one often is overlooked: Microsoft. In February 2011, the software giant announced a sweeping deal with Nokia that assured Symbian would be swept out in favor of Windows Phone. Just three months later, Nokia had entered a tailspin, bleeding market share at rapid pace. When the companies announced the Windows Phone deal, Nokia was global handset and smartphone leader. Now Samsung is tops, filling the gap with Androids where Symbian once led.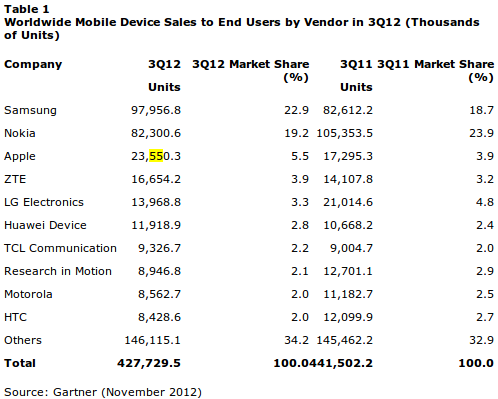 During Q3, Symbian share plummeted to 2.6 percent from 16.9 percent year over year. Nokia fell from third to seventh place quarter on quarter. That's right -- in three months. If you track Nokia's share losses and add them with Research in Motion's, the result is pretty much Android's gains. Microsoft's OS-licensing arrangement is driving catalyst. Sure, Nokia bled share before, but the Windows Phone deal opened an artery.
Turbulence Ahead
Samsung is the decisive beneficiary of Nokia's decline, and that's the overall handset market, not just smartphones. Samsung sold 98 million handsets during Q3, of which 55 million were smartphones. In the latter category, that's more than double second-place Apple; Samsung commands 32.5 percent market share and smartphones account for 56.1 percent of sales.
Apple and Samsung dominate a crucial handset category. "Both vendors together controlled 46.5 percent of smartphone market leaving a handful of vendors fighting over a distant third spot", Gupta says. Third place is up for grabs. Despite declining sales and share, RIM slipped into third place and HTC into fourth. "Both HTC and RIM have seen their sales declining in past few quarters, and the challenges might prevent them from holding on to their current rankings in coming quarters", Gupta says. Nokia has a long climb back into the top five.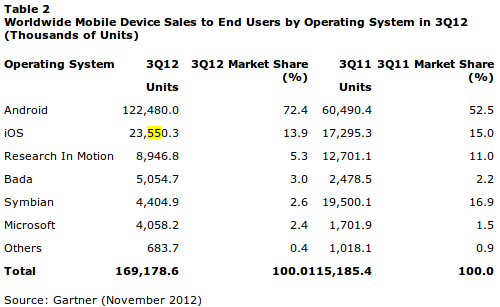 Smartphones are an increasingly significant segment of the cell phone market, accounting for 39.6 percent of third-quarter sales. Broadly, 427.7 million handsets sold, of which 169.2 million were smartphones.
"After two consecutive quarter of decline in mobile phone sales, demand has improved in both mature and emerging markets as sales increased sequentially", Gupta says. "In China, sales of mobile phones grew driven by sales of smartphones, while demand of feature phones remained weak. In mature markets, we finally saw replacement sales pick up with the launch of new devices in the quarter".
Sales of all mobiles fell 3.1 percent year over year in third quarter, and Gartner is cautious about Q4. The firm predicts lower-than-typical holiday sales lift, in part as consumers shift spending to tablets.