Ahead of the Winter Holidays, Skype introduces Gift Cards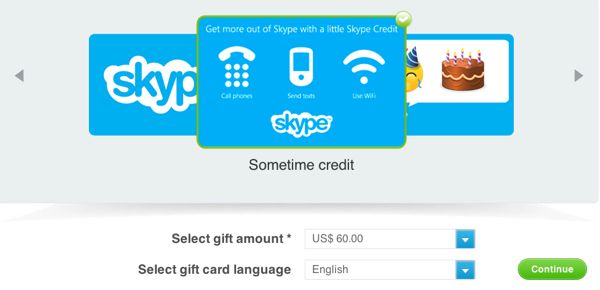 Thanksgiving Day rapidly approaches, and the Winter Holidays are just around the corner. For the long-distance conversations usually associated with those events, popular VoIP and Video chat company Skype has introduced Skype Gift Cards.
With Skype Gift Cards, users of the popular VoIP and video chat service can access a number of premium features such as worldwide calling to landlines and mobile phones, text messaging, or Skype Wi-Fi hotspots. Starting at $10, Gift Cards are available through Skype Shop and the company's Facebook page, as well as at a number of retail locations such as Microsoft Store, Target and OfficeMax.
Using the lowest priced Gift Cards Skype users can activate one month Unlimited Calling to Europe for $7.99, one month Skype Premium subscription for $9.99 or three-month Unlimited U.S. and Canada subscription for $8.52 per quarter.
They're very similar --if not identical to-- the Skype prepaid cards that have been gradually rolling out to different countries across the globe. Gift cards, however, are a tricky business and companies bank on the 5 percent chance that you won't redeem the card at all, and they'll essentially get free money.
Intuit's personal finance service Mint has warned for the last few holiday seasons that gift cards are a minefield, but that they retain a very high value in the second-hand market through eBay, Craigslist, or Plastic Jungle. These sites, however, also carry the chance that the user will be defrauded and sold a junk gift card.
Skype Gift Cards, however, can come in pure credit form which are delivered via e-mail, and customized with an audio, photo or video message added when purchased from the company's Facebook page. This method is only slightly different from the voucher system Skype introduced way back in 2005.