Americans shift shopping to smartphones and tablets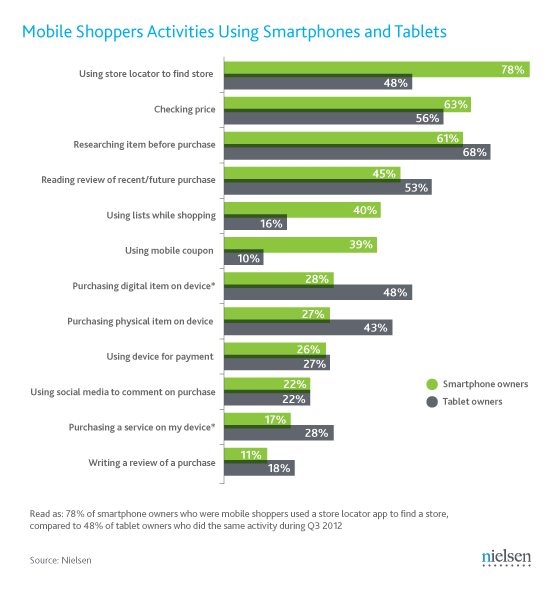 US consumers love to use cloud-connected mobile devices to enhance their shopping experience -- surely something more than a few of you do now that holidays are here. Perhaps least surprising is the number of Americans using smartphones to find local stores -- 78 percent, says Nielsen. That's good news for Google Now, standard browser search services or even Apple's Siri. Sixty-three percent of shoppers check prices in the store. Hey, I do that all the time. Place orders, too. Can you say Amazon?
More Americans use tablets to research items than smartphones (68 percent to 61 percent) or to read reviews of recent or future purchases (53 percent to 45 percent). Forty-eight percent of tablet owners purchase digital items and 43 percent physical goods from their devices. Mea culpa, I do both.
The findings are yet another indication how contextual cloud computing devices change digital lifestyles, by displacing activity once only done on PCs. The personal computer, even the laptop, is more stationary fare limiting its contextual usage. Smartphones, and to a less degree tablets, are highly contextual devices because they are so often carried anywhere.
Consider holiday shopping at the turn of the century, where consumers did little on mobile phones and none on tablets. Retailers didn't worry about, say, Amazon, which didn't compete in store. Buyers might see something at Costco, jot down the price and comparison shop online at home on the PC. My how times have changed.