Ashton Kutcher is Steve Jobs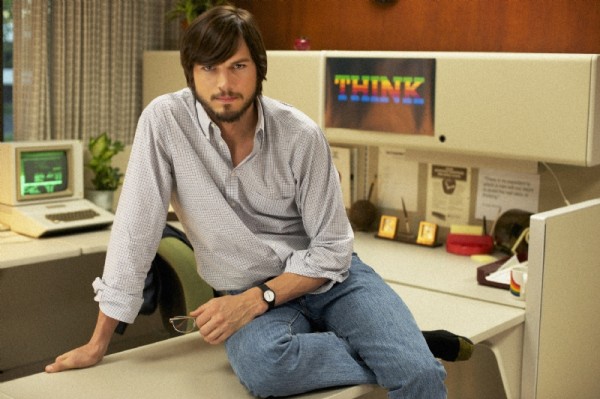 The Apple co-founder passed away a little over a year ago, but such is the continuing interest in Steve Jobs' life, there's not one, but two Hollywood biopics in development. Aaron Sorkin's adaptation of Walter Isaacson's biography (which will apparently be set behind the scenes of three of Jobs' biggest product launches -- the Mac, NeXT and the iPod), is due to start shooting next year, while jOBS, Joshua Michael Stern's more typically-structured take on events, is already in post-production and has been booked to close next year's Sundance Film Festival.
jOBS has attracted a lot of interest, partly for its choice of leading man. Ashton Kutcher's movie career hasn't exactly set Hollywood alight, and it's fair to say the news that he was to play Jobs didn't exactly go down well with the Apple faithful. Still, the actor seems to be taking the role seriously, and certainly looks the part in the promo photo released today.
The Sundance festival blurb describes the movie as: "The true story of one of the greatest entrepreneurs in American history, jOBS chronicles the defining 30 years of Steve Jobs' life. jOBS is a candid, inspiring and personal portrait of the one who saw things differently." According to Trevor Groth, director of programming for Sundance, the film was chosen to close the event because "there's something inspirational about it. To see what he achieved by just like staying true to his vision is something that I think a lot of people can relate to and get hope from."
If you're still not convinced about Kutcher in the role, Festival director John Cooper believes the Two and a Half Men actor's portrayal might just change your mind. Speaking to the Hollywood Reporter, he said: "Ashton Kutcher's performance I thought was quite remarkable. It's a very formidable performance, and it seemed like he really tried to grasp all the nuances of who Steve Jobs was."
Of course jOBS isn't the first movie to chronicle the Apple co-founder's incredible life. 1999's Pirates of Silicon Valley, which told the story of the early years of Apple and Microsoft, starred Noah Wyle as Steve Jobs and is definitely worth seeking out if you haven't already seen it.
What's your take on jOBS? Is it a film you're excited to see? Perhaps you're more stoked about Aaron Sorkin's take on the great entrepreneur's career, or don't fancy either of them. As always leave your comments below.