IDC says I won't have to kiss Steve Ballmer's feet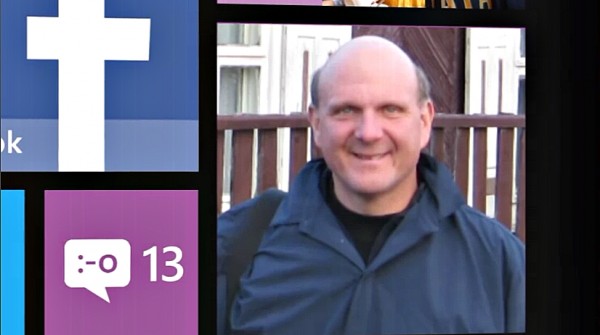 In March 2011, IDC made the most ridiculous prediction -- that Windows Phone would be second to Android in smartphone market share by 2015. I laughed off the forecast, but promised: "Should IDC's prediction prove to be right, I'll make atonement. If Windows Phone is No. 2 smartphone OS by 2015, I'll kiss Microsoft CEO Steve Ballmer's feet. He can take off his socks and shoes, too". Today IDC revised the numbers. Microsoft's OS share still looks too high but also places third. Lucky me.
The new numbers are dramatically different and support my longstanding contention that the smartphone market is, or was, too volatile to forecast. Android clearly wins the share battle, even by IDC's conservative estimates. The analyst firm had put Android share at 45.4 percent in 2015, followed by Windows Phone and iOS, with 20.9 percent and 15.3 percent, respectively. Now in 2016, Android projection is 63.8 percent share, followed by iOS (19.1 percent) and Windows Phone (11.4 percent). I wouldn't rule out a BlackBerry comeback.
Room for Three?
The real question: Where will Windows Phone share come from. "Underpinning the worldwide smartphone market is a constantly shifting mobile operating system landscape", Ramon Llamas, IDC research manager, says. Some of the four-year share growth will come from Android, which the firm says will lose nearly 5 points (from 68.3 percent). IDC sees Apple losing none, gaining a fraction of a percent.
"Android is expected to stay in front, but we also expect it to be the biggest target for competing operating systems to grab market share", Llamas asserts. "At the same time, Windows Phone stands to gain the most market share as its smartphone and carrier partners have gained valuable experience in selling the differentiated experience Windows Phone has to offer".
I disagree. IDC says that in 2012, Android and iOS combined share is 87.4 percent. Microsoft's OS is lowly 2.6 percent. The market already is consolidated around two dominant platforms. Without some really dramatic change -- such as a Microsoft-branded phone, perhaps -- there is little to no room for a third player, certainly not above 10 percent.
Track Record
IDC's poor forecast record is another reason for my skepticism. The firm predicted 5.5 percent Microsoft mobile OS share for 2011, in March of that year. Windows Phone actual: 1.2 percent. Android forecast was 39.5 percent but came in at 49.2 percent. iOS: 15.7 percent (forecast); 18.8 percent (actual). BlackBerry forecast: 14.9 percent; 10.3 percent actual. Surely you can understand my lack of enthusiasm about 2016. If NASA erred by this much, that rocket to the moon would miss by millions of miles.
Where I do agree is questions about two other operating systems, one of which has more share now than Windows Phone. "What bears close observation is how BlackBerry's new platform, BlackBerry 10, and multiple versions of Linux will affect the market once the devices running these systems are available", Llamas says.
Windows Phone remains in startup mode, while Research in Motion merely needs to convert existing customers and win back old ones. Execution is key, and it's anyone's guess whether or not RIM can deliver.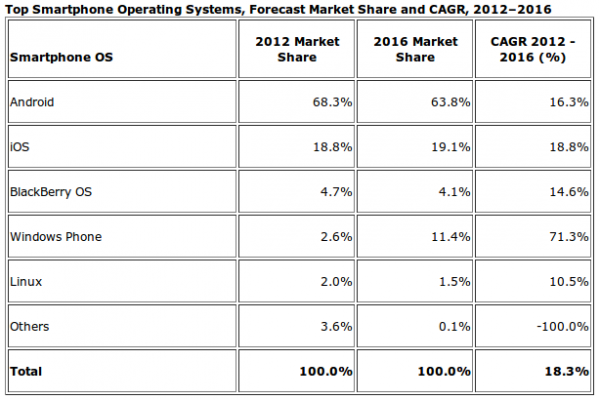 Then there is the Chinese contingent. Three months ago, IDC forecast that China would displace the United States as largest smartphone market this year. In 2011, US share was 21.3 percent compared to 18.3 percent for China. For 2012, China is expected to reach 26.5 percent, while the United States falls to 17.8 percent. Big brands like ZTE benefit, as do local white-label manufacturers that ship Android or even Linux. My point: There are many more reasons to assume Android growth will continue, rather than Windows Phone making gains in part because of declining Nokia.
Then there is Apple. iOS is more likely to continue share gains, too, rather than Windows Phone rising from nowhere. Earlier today, the Cupertino, Calif.-based company expanded iTunes Store by 52 countries, including India, Russia, South Africa and Turkey. That brings the number to 119. Meanwhile, App Store reaches 155 countries. These services are critical to content strategy supporting sales of iPads, iPhones and iPod touches. No one should underestimate the stores' potential to influence iPhone sales everywhere.
My guesstimate: There is no room for three, and the market consolidates around Android and iOS with combined share in the low 90s percentage.